music connects
IN MEMORIAM
Acteur Klaas Hofstra, bij het grote publiek vooral bekend door zijn hoofdrol in hitserie Medisch Centrum West, is vandaag (27 september 2023) op 79-jarige leeftijd overleden. In Pattaya 's buurtschap Jomtien was Klaas zeer bekend onder de Nederlandse expats. Hij bracht zijn beste solo-voorstellingen in Ben's Theater in Pattaya en op de Nederlandse ambassade in Bangkok. In 2007 trad hij hier voor het eerst op in "De Nacht der Girondijnen". Daarna kwam hij elk jaar weer met iets nieuws. Op de Nederlandse ambassade speelde hij in de Engelse taal onnavolgbaar mooi "A Letter from Van Gogh". Met pianiste Regina Albrink kroop hij in de huid van Chopin, Liszt en Beethoven.
Klaas was tussen 1988 en 1994 te zien op de Nederlandse TV als de besnorde internist Dick van Lennep in de TROS-serie Medisch Centrum West over het reilen en zeilen in een fictief ziekenhuis, waar miljoenen mensen naar keken.
Klaas werd tot aan zijn dood vrijwel dagelijks aangesproken op die rol, meldt een vriend. "Hij hield niet van de roem en de rode loper, maar het was eervol dat mensen hem na tientallen jaren nog herkenden." Hij verscheen de laatste paar jaar nauwelijks meer in het openbaar. "Zijn lichaam was op", aldus zijn naasten.
Klaas was niet alleen een goed acteur, hij was ook een lieve man en vriend voor velen hier in Thailand.
---
On Sunday 29th January 2023 we presented a much anticipated program
that was postponed twice due to Covid measures.
It was a smashing performance by Mathias Boegner and friends with high lights of
Piazola's 'Invierno porteno (Four Seasons in Buenos Aires) and
Franz Schubert's famous Quintet in A major ('The Trout')
Ben amid with Anant Changwaiwit (piano), Mathias Boegner (violin),
Prapansak Pumin (violin), Juris Lakutis (cello) and Wei-Wei double bass.
---
A Night at the Opera – Dazzling opera arias at Ben's Theater, Jomtien
By Colin Kaye
(l-r) Alisara Arial (Lila) soprano; Pichamon Mookmaneekun (Kaimook) soprano; Ben Hansen; Chanakan Amarangkun (Noon); mezzo-soprano; Jatupol Pinthip (Ohm) tenor; Jatupol Nuanjan (James) baritone-bass; Siri Sranoi (Kwan) piano. Photo: Gary Hougen.
There's an old saying among wine enthusiasts that the last glass of wine always tastes the best. While this may or may not be true, the performers at the recent concert at Ben's Theater, to my mind at least, certainly saved the best until the end. The performers included five students of Professor Nancy Tsui-Ping Wei, voice teacher at the College of Music, Mahidol University. They're also members of Nancy's Voice Studio in Bangkok and their programme consisted of eighteen items, most of them arias from well-known operas.
The concert began with a duet for soprano and mezzo-soprano, described in The Grove Book of Opera as "one of the world's most popular melodies"; the Barcarolle from Offenbach's opera "The Tales of Hoffmann". A barcarolle is a serenade traditionally sung by Venetian gondoliers or in this case, a song composed in that style. Pichamon Mookmaneekun (Kaimook) and Chanakan Amarangkun (Noon) gave a lovely lilting performance with good vocal blending, effective close harmony and secure intonation.
Noon was joined by Jatuphol Nuanjan (James) for the Mozart duet Là ci darem la mano from "Don Giovanni" in which both singers displayed excellent stage-presence, audience-contact and characterization. Jatupol Pinthip (Ohm) has sung at Ben's Theater in the past but I found that his style and confidence have developed enormously since then. The song he chose, Mattinata ("Morning") by Leoncavallo is interesting historically, because it was the first-ever song written specially for The Gramophone Company (the present-day EMI). Composed in 1904, it has since become a favourite concert piece for tenors. Ohm gave a compelling performance with a good dynamic range and excellent stage-presence.
Mozart's Caro mio Druck und Schluck is a comic song for four voices from 1789. Roughly translated, the macaronic title means – somewhat suggestively – "My dear, squeeze and sip". The singers gave a well-dramatized performance with fine ensemble singing in which Kaimook was splendid, while Ohm and James provided an amusing double-act. Rossini's La Regata Veneziana ("The Venetian Regatta") is an amusing duet in which the two singers are watching a boat race. Lila and Noon gave a delightfully animated and well-staged performance. Their singing was impeccable – good diction, a sense of ensemble and a full range of dynamics. I was also impressed with the performance of Mozart's Soave sia il vento ("May the wind be gentle") from Act I of the opera "Così fan tutte" in which the three singers wish the departing soldiers safe travels as their ship sails. Performed by Kaimook, Lila and James, their voices blended beautifully and their intonation was spot-on. James sang the rather tricky baritone part particularly well.
Composer Francesco Tosti is well-known for his songs and he's a fascinating individual in his own right. In 1875 he travelled from his native Italy to London. There he mingled with the cream of English society and was singing master to the Royal Family. He became friendly with King Edward VII who later honoured him a knighthood. Tosti's songs were tremendously popular in Britain at the time. Noon and Ohm gave an expressive and sensitive performance of the charming La Serenata and really brought out the lyrical quality of the music. Lila gave an expressive performance of Claude-Michel Schönberg's song I Dreamed a Dream from "Les Misérables" and her phrasing, intonation and presence were commendable. She had clearly put a great deal of work into this song, but I felt it needed a bit more projection.
Throughout the concert, the piano accompaniment was provided by Siri Sranoi (Kwan) who played with admirable skill, sensitivity and superb musicianship. I was reminded of the British accompanist Gerald Moore, whose 1962 book entitled "Am I too loud?" reflects a perpetual concern of the accompanist. Sometimes, the piano part is not a mere "backing-track" but an integral part of the music but when you're playing a digital piano with the speakers facing away from you, it's difficult to judge the relative loudness. I felt that Siri's splendid playing was often not loud enough. More volume might have helped the singers too, because they rely on the fixed pitch of the piano as a reference. Even so, Siri's playing was exemplary throughout with a fine sense of style. He studied at the College of Music, Mahidol University, there he graduated with both Bachelor's and Master's degrees and he's currently a full-time collaborative pianist there.
The singers also study at the College of Music of Mahidol University and have already won prizes for their achievements. Both Kaimook and Noon began studies there in 2019. Lila was born in Washington USA. Later, she studied viola but is now in her second year at Mahidol studying vocal performance. Ohm is from Rayong and first studied saxophone before he started specializing in voice. James originally studied classical trumpet but in 2020, shifted his major to vocal performance.

The second half of the concert began with one of those songs that everyone recognizes but few can name the composer. The song was O Sole Mio ("My Own Sun") written in 1897 by the Neapolitan composer Eduardo di Capua. Performed by the full ensemble, there was a good sense of style though the louder sections struck me as a bit over-dramatic. Lila and Noon gave a splendid performance of Sous le dôme épais, better known as the "Flower Duet" from the 1883 opera "Lakmé" by Léo Delibes. The duet is sung by Lakmé and her servant Mallika as they go to gather flowers. In Britain it achieved fame in the 1980s thanks to its use in British Airways television commercials. Lila and Noon sang beautifully with a persuasive stage presence. Kaimook was excellent in Es lebt' eine Vilja from Franz Lehár's "The Merry Widow" in which the off-stage vocals added a touch of drama.
Paul Abraham's operetta "Victoria and Her Hussar" was first performed in 1930 and the song Goodnight is a bitter-sweet melody, given a sensitive and thoughtful performance by Lila and Ohm. The voice-blending was perfect and Lila seemed at her best in this piece.

During the second half of the concert, there were several moments when the singers' intonation was insecure, especially in the louder ensemble passages but his may have been simply due to fatigue.
Ohm sang La donna è mobile, that well-known showcase for tenors from Verdi's "Rigoletto". Verdi must have known he had a potential hit on his hands because the aria was rehearsed in total secrecy. Ohm gave an enthusiastic performance with good diction and a sense of style, which also came through in his singing of Lehar's Lippen Schweigen ("Silent Lips") later in the evening. Lila and Noon displayed splendid ensemble singing in their well-dramatized performance of Humperdinck's Sandmännchen und Abendsegen from "Hänsel und Gretel".

The final item on the programme was the famous drinking song Brindisi from Verdi's "La Traviata". Performed by four of the singers, it was a vigorous performance which generated enthusiastic applause from the audience. During the evening, I couldn't help noticing that the louder the singing, the louder the audience applauded, which must mean something, though I am not entirely sure what.
For the encore, the full ensemble performed the wistful song Sure on this shining night written in 2005 by the American composer Morten Lauridsen. It's a tranquil, timeless setting of a reflective short poem by James Agee. The performance was moving, emotionally charged and perfectly measured with superb ensemble singing. For me at least, it was one of the highlights of the entire evening.
This article was published in the Pattaya Mail of 12 January 2022
---
AN EVENING OF CLASSIC LOVE SONGS
at Ben's Theater Jomtien
by Colin Kaye
(l-r) Manasanun (Angel) Aksornteang; Morakot Cherdchoo-ngarm and Potprecha (Jak) Cholvijarn.

An enthusiastic audience welcomed three young Bangkok musicians recently at Ben's Theater. The enthusiasm was not surprising, because they have all performed at Ben's in the past. I have lost count of the number of times counter-tenor Potprecha (Jak) Cholvijarn has performed there, accompanied by the ever-reliable pianist Morakot Cherdchoo-ngarm. Recently they were joined by soprano Manasanun (Angel) Aksornteang (soprano) who has appeared three times previously.
Their programme covered a wide range of styles from the music of Handel to composers of the present day. Jak Cholvijarn was in fine form to kick off the concert with a powerful performance of Mozart's aria Al mio ben mi veggio avanti from the little-known opera Ascanio in Alba composed when Mozart was only fifteen. Jak gave a dramatic performance of the aria which contrasted well with Debussy's lyrical Nuit d'étoile. As well as solo songs, the programme also contained a few duets, the first of which was the aria Bist du bei mir by the baroque composer Gottfried Heinrich Stölzel. Although his music is rarely heard today he was well-known in his time and a contemporary of J. S. Bach. This aria has become well-known and Jak and Angel gave a splendid performance with perfect intonation and well-blended voices. The pianissimo sections were especially beautiful.
One of the musical highlights of the evening, at least for me, was the group of four songs by Robert Schumann, Frauenliebe und Leben which Angel sang superbly. The songs are quiet and reflective and Angel brought out these qualities with her beautifully controlled voice in which her tone quality, vibrato and intonation were excellent. Her stage presence helped a lot too, for she always looks confident and natural. Pianist Morakot was especially effective in these Schumann songs and provided a sensitive and carefully phrased performance. I am always impressed with Morakot's ability to switch from one musical style to another so effortlessly and he is superb at the specialist skill of accompanying.
Jak returned to the stage for two contrasting songs, Franz Schubert's An den mond, a setting of Goethe's poem of the same name. Jak provided a thoughtful performance of this lyrical song and it was contrasted with a dramatic performance of Henri Duparc's L'invitation au voyage. With words by Charles Baudelaire it's one of Duparc's most memorable songs and Jak brought out the drama of the words. I was also impressed with his excellent vocal tone. Jak & Angel concluded the first half of the concert with another duet, the well-known setting of Panis Angelicus by César Franck, possibly the composer's most famous work. Their singing was lovely, with beautifully blended voices.
Angel holds a Master's Degree in voice performance gained at the Faculty of Fine and Applied Arts, Chulalongkorn University and she completed her Bachelor Degree at the College of Music, Mahidol University. She has studied at the University of Music and Performing Arts in Vienna and recently become a faculty member of Voice Department at the College of Music, Mahidol University.
In 2019, Jak completed his Doctorate Degree in Buddhist studies from the UK's University of Bristol. He has performed as a soloist for Opera Siam (Bangkok Opera), Siam Philharmonic and Siam Sinfonietta on numerous occasions. Composer Somtow Sucharitkul cast him as the Buddha in six episodes of his music drama Ten Lives of the Buddha. Jak went on the European tour of The Silent Prince performing the title role at Bayreuth, Prague and Brno. With Grand Opera Thailand, Jak sang in concerts for The European Union Delegation, as well as many embassies in Bangkok.
Morakot is not only a splendid and reliable accompanist but also a composer and arranger. He was commissioned to compose the music for 100th anniversary of the distinguished Thai artist Fua Haripitak and for several other prestigious events. His compositions have been performed in festivals in Singapore and Peru as well as the Thailand Flute Festival, Thailand Brass and Percussion Conference, Thailand International Composition Festival and the Thailand International Wind Symphony Competition.
After the interval, Jak opened the second half with one of John Dowland's most famous songs, Come again, sweet love doth now invite. It's written in the composer's typical melancholy style and first appeared in the Dowland's First Booke of Songs of 1597. Jak has sung this lovely song many times and to me his voice seems just right for Dowland's bitter-sweet music. Angel gave an impassioned performance of Hugo Wolf's song Verborgenheit. It comes from a set of about fifty songs collectively entitled Morike-Lieder, which cemented Wolf's recognition in Austria as a voice composer. Angel gave an impressive performance with clear diction and spot-on intonation throughout. She then sang Morakot's charming song, Wine comes in at the mouth, an attractive setting of the verse by the Irish poet William Butler Yeats which Angel performed with style.
Jak then sang the five songs entitled Kyoto Dreams which were composed for him several years ago. He gave a thoughtful performance which reflected the melancholy nature of the words. In contrast, Angel sang the lively Taylor the Latte Boy, a song by Marcy Heisler and Zina Goldrich, evidently based on their experience with a coffee boy at Starbucks. Jak sang the lovely old Scottish song known as The Skye Boat Song with his usual care and Angel gave an accurate, if rather polite performance of Wouldn't it be loverly from the musical My Fair Lady.
The concert ended with a baroque aria, a style which seems to suit both singers best. It was the aria Streams of pleasure from Handel's much-admired dramatic oratorio of 1750, Theodora. Jak and Angel provided a spirited performance, with superb vocal blending and assured singing in the contrapuntal sections. It made an appropriate and inspiring ending to a delightful evening.
This article was published in the Pattaya Mail of 4 November 2022
---
Sherlock Holmes in Pattaya
by Colin Kaye
As every Sherlock Holmes enthusiast knows, Holmes and Dr. Watson shared rooms at No 221b Baker Street, which in Sir Arthur Conan Doyle's time was one of London's residential districts. Recently, the sitting room of the apartment and its two famous occupants were recreated at Ben's Theater in Jomtien for the stage production, The Return of Sherlock Holmes.
In Doyle's time, the house numbers in Baker Street only went up to No 85. When it was merged with another street in the 1930s, the odd numbers from 215 to 229 were assigned to a building which was the home of the Abbey Road Building Society. Almost immediately, the company started receiving countless letters addressed to Mr. Sherlock Holmes. They eventually appointed a full-time secretary to deal with them.
The Return of Sherlock Holmes was Arthur Conan Doyle's fourth collection of short stories and published in 1905. Doyle began writing about the detective and his side-kick in the 1880s; a total of fifty-six short stories and four full-length novels. The first one, A Study in Scarlet was published in The Strand Magazine in 1887. Doyle was twenty-seven at the time and a qualified medical doctor. Subsequent stories appeared in serial form, a common practice at the time. They were later republished as complete books. Although Doyle was one of the best paid authors of his day, he eventually became bored with Holmes and wanted to concentrate on other things, especially historical fiction. Despite his mother's dismay, Doyle decided to kill off Holmes in a story entitled The Final Problem, published in The Strand Magazine in 1893.
There was a public outcry. Many readers angrily cancelled their subscriptions to The Strand Magazine and it was said that some young men in London donned black arm-bands. The ensuing furore forced Doyle to bring Sherlock Holmes back to life, though not after several years absence. Holmes reappeared in 1903 in a short story called The Adventure of the Empty House, republished two years later in The Return of Sherlock Holmes.
The stage production The Return of Sherlock Holmes is a brilliant two-man show, presented recently at Ben's Theater, Jomtien. With a script by Owen Thomas, it's based loosely on The Adventure of the Empty House. Set in 1894, three years after the apparent death of Sherlock Holmes the story concerns an apparently unsolvable London murder: the killing of the Honourable Ronald Adair, part-time gambler and son of the Earl of Maynooth.
In the stage production, Dr. Watson laments the untimely death of his friend Holmes but later we see Holmes disguised as an eccentric bearded book-seller who literally bumps into Dr Watson on the street. Later, at their rooms in Baker Street, Holmes reveals his true identity. He explains to Dr. Watson that reports of his death at Switzerland's Reichenbach Falls with his arch-enemy Professor Moriarty were false. Only Moriarty had fallen to his death while Holmes had managed to escape. Dr Watson understandably receives this revelation with mixed emotions.
Nigel Miles-Thomas played a compelling Holmes and reminded me of Sir Basil Rathbone, the eminent English actor with the impeccable accent who played Sherlock Holmes in fourteen Hollywood films made between 1939 and 1946. Nigel has been in over a hundred productions worldwide and appeared in popular British television shows including Dr Who, Grange Hill, The Professionals, and The Dick Emery Show. As Holmes, Nigel dominated the stage and played with a real sense of commitment. Daniel Foley gave a thoughtful and affectionate performance of the long-suffering Dr Watson, who in the stories was a successful medical doctor, though not quite in the intellectual league of Holmes. Daniel, who also has a string of theatre and television appearances behind him, played the character with considerable sympathy and understanding. The ensemble work provided some compelling and amusing theatre which delighted the audience.
As I watched with fascination, I began to wonder why Arthur Conan Doyle decided to give his hero the unusual name of Sherlock. The name Holmes was a typical English surname and especially associated with London and the literary world. But Sherlock? According to the American writer Michael Sims, Doyle toyed with several different names for his detective. Originally Doyle was going to call him Sherrington Hope. That mutated into Sherrinford Hope and then into Sherrinford Holmes before finally becoming Sherlock Holmes. It's possible claims Sims, that the name Sherlock might have been inspired by the real-life Chief Inspector William Sherlock of London's Metropolitan Police, who was frequently mentioned in newspaper crime reports. Doyle made no secret of the fact that the personal character of the detective was partly modelled on Doyle's former university teacher Dr Joseph Bell.
Dr Watson was originally going to be named Ormond Sacker. Perhaps it sounded a bit fanciful because later Doyle chose the more mundane Watson instead, possibly inspired by Dr. Patrick Watson in Edinburgh. Or possibly not. We may never know. Dr Watson is the "writer" of nearly all the Holmes stories and we see them unfold through his eyes. This is established in the first title A Study in Scarlet, which is subtitled "being a reprint from the reminiscences of John H. Watson, MD, late of the Army Medical Department." Towards the end of the story, Watson says to Holmes, "Your merits should be publicly recognized. You should publish an account of the case. If you won't, I will for you." And of course, he does.
Nigel Miles-Thomas and Daniel Foley have already presented this fascinating show in many countries. They've had plenty of time to get comfortable with the roles and it was a pleasure watching such professional and confident work on the stage at Ben's Theater. Their years of stage and television work was evident in their compelling stage presence and sensitive portrayal of the two characters that Sir Arthur Conan Doyle crafted so carefully. It was a splendid evening, especially for fans of The Great Detective.
Footnote:
As I was completing this article, I chanced upon a brief uncredited story that illustrates Dr. Watson's worldly knowledge…
Sherlock Holmes and Dr. Watson are on a camping trip. After an al fresco dinner and a bottle of Bordeaux, they decide to retire for the night. Some hours later, Watson is awoken by a nudge in the arm from Holmes. "Watson, look up and tell me what you see."
"I see millions and millions of bright shining stars, Holmes," replies Watson in awe.
"And what do you deduce from that?" Holmes asks. Watson ponders for a moment and replies, "Astronomically, I deduce that there are millions of galaxies and potentially countless planets. In terms of meteorology, the clear sky indicates that there will be a cloudless morning ahead of us. Astrologically, I observe that Saturn is in Leo and furthermore…"
"Yes, yes, Watson," interrupts Holmes impatiently, "But you have failed to notice a significant point."
"And what is that?" asks Watson, mystified.
"Watson," says Holmes slowly, "Someone has stolen our tent."
This article was published in the Pattaya Mail of 4 November 2022
---
Concert at Ben's Theater, Jomtien, Saturday 1st October 2022
Back after the Break
by Colin Kaye
"Where have you all been?" Ben Hansen jokingly asked his audience at the beginning or a recent concert at Ben's Theater, Jomtien. It was the first concert after the long pandemic break of almost three years, during which time the theatre has been silent. "Gone dark", as they say in the theatre world. Not a note of music for months on end. Not a squeak. Except for some occasional squeaks from Ben's two cats, Blacky-Two and Máxima (who is named after the Queen of the Netherlands).
Judging by the warmth and general bonhomie among the audience, everyone was delighted to be back together again, for there were many familiar faces. We'd come along for the first concert of the new season, given by the Mahidol Woodwind Quintet which features some of the top players from the Thailand Philharmonic Orchestra. It was a fascinating programme too, ranging from Mozart to the twentieth century composers Paul Hindemith and Paquito D'Rivera. The nineteenth century was represented by the German composer August Klughardt whose music is rarely heard these days.
The Mahidol Woodwind Quintet is made up of Yu-Jin Jung (flute), Cooper Wright (oboe), Sooksan Ratanapol (clarinet), Darren Robbins (horn) and Christopher Schaub (bassoon). They began with Mozart's Quintet in C minor, actually an arrangement of his Serenade No. 12 for Octet. Eighteenth century serenades were usually intended as light entertainment or even background music, but this one is rather a sombre work though little is known of its origins. It concludes with the usual theme and variations, a rather curious movement, which includes a few "Turkish" motifs, fashionable in the courts of late eighteenth century Vienna.
In complete contrast, the Mozart was followed by Paul Hindemith's Kleine Kammermusik No. 2, written for the composer's colleagues in the Frankfurt Opera Orchestra, of which he was a member at the time. The work dates from 1922 and it's spiky, caustic music, sometimes slightly surreal but full of melody and lively rhythms and occasional references (intentional or otherwise) to works by other composers. The second movement contains a bizarre reference to the well-known waltz theme in Nicolai Rimsky-Korsakov's dazzling orchestral work Scheherazade. The quintet gave a compelling performance of the work and the rich sonorities of the instrumental writing were deeply satisfying. The articulation, so essential in this work was immaculate and the musicians had a fine sense of balance and phrasing. Each instrument was given a technically demanding solo in the fourth movement which although only 23 bars long is made up of five cadenzas. The players gave a fine account of the scampering, technically challenging and finale. It made a lively ending to the first half of the concert.
The Mahidol Woodwind Quintet is made up of seasoned professional musicians with years of experience behind them. Although all the players teach at Mahidol University's College of Music it's quite an international group. Flautist Yu-Jin Jung hails from the Republic of Korea and at the age of sixteen, she began her studies at the Music and Arts University of the City of Vienna later moving on to studies in Graz and Stuttgart. Since 2013, she has been Principal Flautist with the TPO. Thai clarinetist Sooksan Ratanapol also studied in Graz and Stuttgart, while the other three players originally come from America. Oboist Cooper Wright is an active performer and educator in Asia and recently returned from Indonesia where he was Principal Oboist of the Bandung Philharmonic Orchestra and the Amadeus Symphony Orchestra in Jakarta. Horn player Darren Robbins is Chair of the Brass and Percussion Department and teaches horn, brass literature and pedagogy while bassoonist Christopher Schaub teaches music theory, performance practice, music education, research methodology and chamber music. He's also a founding member of the Asian Double Reed Association.
The second half of the concert began with the Wind Quintet Op. 79 by the grandly-named August Friedrich Martin Klughardt. He was a German composer and conductor, a friend of Franz Liszt and Richard Wagner and the composer of six operas, five symphonies and other orchestral works. But despite his prolific writing and good connections he was rather conservative. Nevertheless, his quintet of 1898 is charming music; full of lyrical melodies and lively inventiveness. The Mahidol Woodwind Quintet gave a superb performance of the work and the third movement was especially compelling. And I suppose you might rightly ask why is there a horn - a brass instrument - in a woodwind quintet. The answer is that it has always been there. Well, at least since the eighteenth century. The horn blends extremely well with the clarinet and the bassoon and is an obvious choice to enrich the overall sound.
The final work of the evening, and a most appropriate one too was a selection of movements from Aires Tropicales by the Cuban-American saxophonist, clarinetist and composer Paquito D'Rivera. The work dates from 1994 and features traditional Cuban musical styles. It's fascinating music, with distinctive Cuban flavours, hints of baroque and classical ideas, occasional jazz harmonies, Latin American rhythms and touches of the composer's idiosyncratic humour. In much the same way that Stravinsky gentrified the jazz and ragtime idioms he sometimes used, D'Rivera seems to have taken a similar approach and produced more sophisticated versions of the original musical ideas. The Quintet gave a tremendous performance of this lively music, full of colour and dexterous rhythms.
Judging by the hearty applause, the performance and indeed the entire evening was eminently successful and clearly much enjoyed by the audience. And just in case you are wondering about Ben's two cats Blacky-Two and Máxima, as a precaution they were ordered to stay in another room with a supply of food and drink. They must have been content in there, for not a meow was heard all evening. They were as quiet as mice.
This article was published in the Pattaya Mail in October 2022
Yu-Jin Jung, Sooksan Ratanapol, Christopher Schaub, Darren Robbins and Cooper Wright
---
Mark Twain in Jomtien (14 Feb. 2020)
by Colin Kaye
A few weeks ago, I read Mark Twain's splendid travel book again, The Innocents Abroad which was published in 1869. It was based on his letters to newspapers about what he called his "Great Pleasure Excursion" on board the chartered steamship Quaker City. Sponsored by a local paper, Mark Twain travelled with a group of assorted American tourists and visited Europe, Egypt and the Holy Land. The Innocents Abroad is a satirical and humorous account of the tour and the book repays a second reading because it's a remarkable literary feat, full of the dry and often acerbic wit for which the author was renowned. It was Twain's best-selling book during his lifetime and became one of the best-selling travel books ever. Mark Twain was yet to write his two great novels The Adventures of Tom Sawyer and its sequel, Adventures of Huckleberry Finn both somewhat controversial classics of American literature.
And so it was with some interest that I went to Ben's Theater in Jomtien to see an incarnation of Mark Twain played by the distinguished British actor, writer and director Daniel Foley. In the show An Evening with Mark Twain the audience was told of his childhood, his years on the Mississippi River, his travels abroad and his friendships, successes and failures.
Samuel Langhorne Clemens was born in 1835 in the now uninhabited village of Florida, Missouri. He was brought up in Hannibal, Missouri - a port town on the Mississippi River which later provided the setting for both the Tom Sawyer and Huckleberry Finn novels. Daniel Foley (in the guise of Mark Twain) told of his apprenticeship to a printer and how he sometimes contributed articles to the Hannibal Journal, a paper owned by his elder brother. He told of his later work as a young pilot on the Mississippi riverboats; a prestigious job at the time, akin to that of an airline pilot today. Incidentally, the pseudonym Mark Twain comes directly from riverboat jargon. "Twain" is the archaic word for "two" as in the expression "never the twain shall meet." As the riverboat chugged along, the pilot would regularly ask one of the leadsmen to sound the water depth. The shouted phrase to the pilot "Mark twain!" meant that the riverboat had two fathoms (or twelve feet) clearance and it was therefore safe to proceed.
Sam Clemens later moved west and Daniel told of the unsuccessful attempts at mining in the town of Virginia City, Nevada. It was around this time that Clemens published a short story about a jumping frog. It brought him national attention and success. It was also the first time he used the name Mark Twain.
In later life, Twain was in demand as a featured speaker and Daniel Foley gave a fine impression of the great writer. Daniel has a commanding presence on stage and confident speech and posture which reflected his vast experience of acting and theatre production. He trained for the stage at The Royal Scottish Academy of Music and Drama where he won The Percival Steeds Prize and Royal Lyceum Awards. In 1992 he studied the Indonesian traditional form of puppet shadow-play known wayang kulit with the great Pak Suleman and later trained in Japanese traditional dance with Yoh Izumo. With Performance Exchange, Daniel has appeared in more than a hundred stage productions in thirty-seven countries. He's appeared at The European Arts Festival Berlin, The London International Festival of Theatre, The Shakespeare Festival Cologne, The Seoul Shakespeare Festival, The Edinburgh Fringe Festival and many more. He has directed more than fifty productions, ranging from the classics to stage works by modern writers and in 1982 and 1983 he won awards for Best Director.
In the second half of the programme Daniel read excerpts from some of the many letters that Mark Twain received from his international readership. It was a full house at Ben's Theater and the audience clearly appreciated the entertaining evening which has also been presented in Manila, Vientiane, Phnom Penh and Bangkok.
Now here's a curious thing. Mark Twain was born shortly after the appearance of Halley's Comet which as you may know, shows up every seventy-five years or so. Mark Twain often quipped that he would "go out with it as well". The comet returned in April 1910 and on the 20th of that month was at its closest to Earth. The following day, as the comet headed off back into space, Mark Twain died. Now I don't know about you, but I think that's a little bit spooky.
Published in the Pattaya Mail on March 6 and online:
https://www.pattayamail.com/ourcommunity/mark-twain-in-jomtien-288728
---
Mozart and Menotti at Ben's Theater (12 January 2020)
by Colin Kaye
It was a full house at the much-anticipated concert given by talented vocal students from the College of Music at Mahidol University. All five are students of the distinguished singing teacher Professor Nancy Tsui-Ping Wei and they presented a well-planned and fascinating programme. In typical fashion, much thought had been given to the visual aspect to the concert – a stage decorated in crimson and black with the singers appearing in the same matching colours. Even our host, Ben Hansen appeared in black shirt and crimson bow tie. This attention to detail ran through the concert too and it was clear that careful planning had been given to the choice of songs and the order in which they were presented. People sometimes forget that singers don't simply walk on to the stage and perform: that daunting moment is the culmination of many hours of rehearsal and preparation, over a period of weeks and sometimes months. All the songs – some of them technically challenging - were performed entirely from memory.
Mozart's aria Ah guarda sorella from the opera "Così fan tutte" opened the concert and featured the two sopranos Pariyachart Sitthidamrongkarn and Duangamorn Fu. With commanding stage presence, they gave a confident performance of the piece with a good sense of ensemble and some lovely close-harmony singing. In contrast, it was followed by arias from the opera "The Old Maid and the Thief" by Menotti, commissioned for a radio performance in 1939. Baritone Jorn Yasavudhi sang the charming folk-like aria When the Air Sings of Summer confidently and soprano Lim Sin Mei sang Steal Me, Sweet Thief with good stage presence and a convincing sense of style.
Jorn and Duangamorn gave a compelling performance of Lehár's lively duet We Met a Long Time Ago from the operetta "The Merry Widow". They sang with a good sense of phrasing and were given tremendous support from pianist Anant Changwaiwit, a brilliant concert pianist in his own right who played superbly throughout the evening. His performance of the keyboard accompaniment to Handel's aria Da tempeste il legno infranto (sung by Pariyachart) was absolutely spot-on with superb articulation. Pariyachart gave a fine performance of this difficult aria with its many long melismatic passages: a real challenge for any singer.
The grandly-named Martino Stanislao Luigi Gastaldon is known today for a single song written in 1881 entitled "Musica proibita" ("Forbidden Music"). Jatupol Pinthip has a light baritone voice, almost a tenor in voice quality and he gave a pleasing performance of the song with good intonation, clear Italian diction and negotiated the tricky modulations remarkably well. He and Pariyachart gave a lovely performance of Bei Männern welche Liebe fühlen, from Mozart's "The Magic Flute" in which their voices blended perfectly with excellent intonation, a good sense of phrasing and clear articulation.
I was impressed with Duangamorn's singing of the aria Chi il bel sogno di Doretta potè indovinar? from Puccini's little-known opera "La Rodine". She performed the aria with excellent control, especially on the challenging high notes. For me, it was one of the highlights of the evening. The second highlight was the jolly Wie die Weiber man behandelt? from Lehár's popular operetta "The Merry Widow". It was a well-staged ensemble piece with good diction, excellent voice blending and confident presentation. The audience approved enthusiastically.
After the intermission, another highlight of the evening was Mendelssohn's much-loved song Auf flügeln des Gesanges sung by Duangamorn and Jorn – a delightful performance in which their voices blended perfectly. Pariyachart then gave a well-staged and competent performance of Menotti's Monica's Waltz with beautifully articulated piano playing from Anant. So competent and musical is his piano playing that frequently my ears were drawn to his sympathetic and technically accomplished playing. I enjoyed Jatupol's dramatic performance of Mozart's Se vuol ballare, Signor Contino and I think Duangamorn excelled herself in a touching performance of the song Oh! Quand je dors by Franz Liszt. Her voice floated serenely above a magical and sublime piano accompaniment. Jorn offered a compelling performance of the Viennese song by Rudolf Sieczyński, Wien, du Stadt meiner Träume and Lim Sin Mei was probably at her best in Verdi's aria Volta la terrea fronte alle stelle in which her phrasing and articulation were excellent and blended well with the piano. Duangamorn provided another highlight of the evening, the aria that everyone knows from Franz Lehár's "The Merry Widow", Es lebt' eine Vilja. Helped by off-stage baritones, she sang with confidence, broad phrasing and excellent intonation. The concert culminated in another popular ensemble number, Lehár's Dein ist mein ganzes Herz which brought the concert to a satisfying conclusion, with a great deal of enthusiastic applause and cheering from the audience.
Published in the Pattaya Mail edition of 24 February 2020
NEW YEAR CONCERT 2020 AT BEN'S ON JANUARY 12
"FROM MOZART TO MENOTTI" by the Mahidol Heavenly Voices
FLTR: pianist Anant Changwaiwit, Jorn Yasavudhi baritone, sopranos Lim Sin Mei, Duangamorn Fu, Pariyachart Sitthidamrongkorn and baritone
Jatupol Pinthip.
---
Magic Moments at Ben's Theater
TPO String Quartet (1st December 2019)
One of my friends is an experienced and successful flute teacher who always encourages her students to look out for "magic moments". Of course, she's not referring to the Canadian vodka of the same name, or even the 1950s song by Burt Bacharach but to those fleeting occasions in music which can bring a frisson of excitement or even a tingle down the spine. The expression came to mind at a recent concert given by the TPO String Quartet, so-called because the musicians are members of the Thailand Philharmonic Orchestra. Led by Omiros Yavroumi, the Concertmaster of the TPO, the quartet has something of an international quality. Omiros himself is Greek, Chanasorn Chantarapaoraya (second violin) is Thai, Aibek Ashirmatov (viola) hails from Uzbekistan and Sarai Arsa (cello) was born in Japan.
The programme opened with Haydn's String Quartet in C major, Op. 76, No. 3. It dates from the late 1790s and has acquired the nickname "Emperor" because the second movement is based on Haydn's anthem, God Save Emperor Francis. Once the unofficial anthem of Austria, it is now the national anthem of Germany.
The TPO quartet gave a fine account of the work and seemed to capture the essence of the music. I was struck by their attention to detail, the excellent sense of ensemble, the finely-judged dynamics and the careful phrasing. The slow movement has a wonderful closing section with surprising dream-like harmonies and the players really captured the timeless beauty of the music. It was one of several magic moments of the evening. Their performance of the Minuet had a fine sense of rhythm and the Trio section was beautifully judged. The last movement develops into a bustling musical exchange between the instruments and contains some tricky passages that require a high degree of technical skill. The players navigated the movement splendidly and confidently.
Mendelssohn's Quartet in A minor, Op. 13, No. 2 was written when he was only eighteen but is not short of musical challenges. It dates from 1828, a few months after the death of Beethoven. The opening phrase even sounds like Beethoven and it's a quotation from Mendelssohn's song Ist es wahr? ("Is it true?") composed a few months earlier. There are references to it throughout the work. The TPO performed this lyrical opening faultlessly with a fine sense of phrasing and dynamic control. I especially enjoyed their performance of the second movement, the opening of which was beautifully timed with lovely rich tone quality: yet another magic moment.
The mysterious melody of the third movement was played splendidly by Omiros Yavroumis to a lilting rhythm of pizzicato strings. The scampering middle section seemed to evoke the exotic world of Mendelssohn's Midsummer Night's Dream and was brilliantly performed with a superb lightness of touch and splendid articulation. The powerful last movement work was given a fine performance and the final appearance of the Ist es wahr? theme was especially poignant and heart-felt. A magic moment indeed. The quartet's expressive playing of Elgar's Salut d'amour made a fitting and reflective conclusion to a splendid concert.
(PUBLISHED IN THE PATTAYA MAIL OF 13 DECEMBER 2019)
---
Queen of the Keyboard
By Colin Kaye
Enthusiastic applause greeted Dutch pianist Regina Albrink when she appeared at Ben's Theater Jomtien to give a much-anticipated piano recital of classical music. She performed the entire concert from memory; a well-balanced programme of varied piano works which ensured that there was something for everyone.
The recital opened with Mozart's Piano Sonata No. 12 in F (K. 332), which was published in 1784 and thought to have been written the previous year. As was customary at the time, the sonata was written in three movements with a slow one in the middle. Regina gave a rhythmic performance of the opening movement with good dynamic contrast and a clear sense of phrasing. I enjoyed her delicate and thoughtful approach. The second movement was given a rather more romantic treatment and would have sounded familiar to anyone who had seen Immortal Beloved, the 1994 movie about the life of Beethoven. The lively, galloping third movement was technically impressive with fast passage work in the right hand which Regina handled impeccably.
Many pianists regard Chopin's Piano Sonata No. 3 in B minor, Op. 58 as something of a beast, on account of its many challenges. It's considered to be one of the composer's most difficult works, both technically and musically. It's a challenge for the audience too, but I couldn't help noticing that everyone in Ben's Theater was listening throughout with rapt attention. Dating from 1844, the sonata is cast in four movements and Regina seemed to be much more at home in this work. The first movement requires a fair amount of physical strength and I was impressed by Regina's confident and powerful playing and her ability to bring out the melodic elements. There were many charming moments. The second movement is a brief yet sparkling Scherzo played at a hair-raising speed with many virtuoso finger-fracturing passages. Regina handled the challenges with consummate ease and with superbly crisp articulation. Her playing of the lyrical middle section was magical. But for me, one of the highlights of the evening was the third movement which lies at the heart of the sonata, with subtle use of rich, sometimes unexpected harmonies and a beautifully poignant melody. When this melody returned later in the movement, the moment was sublime indeed. Regina seemed in her element in this movement giving a remarkably poetic performance. She launched confidently into the turbulent fourth movement, and brought drama to the work with an infectious sense of rhythm and sparkling articulation.
Regina has had a busy musical career. After finishing her studies at the Franz Liszt Academy in Budapest, she took part in many concerts and theater productions in the Netherlands. She performed Chopin's First Piano Concerto at the Alte Oper in Frankfurt and at the Concertgebouw in Amsterdam. In 2002, her recording of works by Gottschalk was well received by the press. For some years, Regina has given an annual Christmas recital in the Amsterdam Concertgebouw.
Louis Moreau Gottschalk was a 19th century American composer, who achieved fame as a performer of his own piano works and he was the first to make use of Afro-American folk melodies. Regina played three works by Gottschalk, beginning with the tender Berceuse (Lullaby); a lovely sensitive performance in which she brought out the melodic lines clearly. The fast and exotic movement Manchega, seemed to have the flavour a Mexican dance and Regina gave a tight, spirited and rhythmic performance. Souvenirs d'Andalousie is of course named after Andalucia and just oozes Spanishness.
George Gershwin's Three Preludes were premiered by the composer 1916 in New York City and demonstrate his characteristic style of piano writing. Prelude I features intense rhythm and energetic syncopation which Regina performed splendidly. Prelude II, has the feel of a blues but with dreamlike, shifting harmonies and Prelude III has a brash, lively feel which exudes the energy of 1920s New York. Regina seemed to enjoy performing this lively colourful music and the audience responded warmly. Her playing of the somewhat ungrammatical I Got Rhythm was typically lively, rhythmic and technically assured. It's said that Ira Gershwin, George's elder brother and lyric-writer found that writing the words for this melody was unusually difficult.
Astor Piazzolla was born in 1921 and became the world's best-known composer of tangos. He elevated this simple dance into an expressive art-form which incorporated elements of jazz and classical music. Oblivion was composed in 1982 and it's his most famous piece, with harmonic sophistication and a brooding sense of melancholy. Regina gave a compelling performance of this surprisingly complex and expressive work. Her recital concluded with Piazzolla's Libertango, a lively and rhythmic number from 1974 which seems to capture the very spirit of Argentina. As an encore, Regina chose the first movement of Beethoven's Piano Sonata No. 14 in C sharp minor. She gave a beautifully restrained performance, bringing out the melodies clearly yet controlling the smooth reflective flow of the music. Back in 1852, the German music critic Ludwig Rellstab likened this musical effect to "moonlight shining upon Lake Lucerne", unwittingly creating the nickname by which the sonata has been known ever since. After the angular, vivid music of Piazzolla, the sublime Beethoven was in perfect contrast and made a pleasingly tranquil ending to an exhilarating concert. PUBLISHED IN THE PATTAYA MAIL OF FRIDAY 15 MARCH 2019
Six of the Best
By Colin Kaye
Ben's Theater in Jomtien recently presented a sparkling concert featuring three sopranos, a baritone and two pianists. The sopranos were Pijarin Wiriyasakdakul, Duangamorn Fu and Pariyachart Sitthidamrongkarn, all from the College of Music at Mahidol University. They were joined by the Taiwanese baritone Rios Li and accompanied by the brilliant young Thai pianists Anant Changwaiwit and Siri Sranoi.
The concert opened with a splendid performance of the duet from Humperdinck's opera Hansel and Gretel. Brüderchen, komm, tanz mit mir was sung by Pijarin and Duangamorn who oozed confidence and charmed the audience with their captivating performance. It was one of the highlights of the evening, as was Duangamorn's singing of Rachmaninoff's melancholy piece Oh never sing to me again. She really conveyed the emotion of the song and I was impressed by her fine intonation and sense of phrasing. Later in the programme she gave a confident performance of Klänge der Heimat from the Strauss operetta Die Fledermaus. She began music lessons at the age of four and in recent years Duangamorn has performed in many concerts and recitals. She was one of the semi-finalists in the Alcamo International Opera Competition in Sicily.
Pijarin gave a fine performance of Ständchen, composed by Richard Strauss in 1886. She sang with clear tone and excellent intonation. She began singing at the age of thirteen and last year was a soloist in Beethoven's Ninth Symphony with the Thailand Philharmonic Orchestra. Next month she will be soprano soloist with the same orchestra in Mahler's Fourth Symphony. I was impressed with her singing of Spiel' ich die Unschuld vom Lande also from Die Fledermaus in which she captivated the audience with her confident and well dramatized performance of the aria, which also demands a good deal of vocal dexterity.
Pariyachart's first musical offering was Ombre légère from Meyerbeer's 1859 opera Dinorah in which the eponymous Dinorah dances and sings to her own shadow in the moonlight. Her powerful voice is impressive and pianist Siri Sranoi accompanied with a fine sense of rhythm. Even so, her performance of the much-loved Mesičku na nebi hublokém from Dvorak's opera Rusalka seemed much more successful. It was one of the highlights of the evening and demonstrated Pariyachart's pure vocal tone, well-controlled vibrato, accurate intonation and fine sense of phrasing. I was also rather taken with her singing of the delightful Les filles des Cadix, a song for solo voice written in 1874 by Leo Delibes. Her performance really caught the dramatic Spanish flavour of the song. Perhaps her previous experience came in useful because she's played many roles in musical theatre. All three sopranos are students of Prof. Nancy Tsui-Ping-Wei at Mahidol University College of Music.
Rios Li graduated from Thung-Hai University in Taiwan, where he received his Bachelor's and Master's degrees. His singing of Der Vögelfänger bin ich ja from Mozart's 1791 opera The Magic Flute was confident and revealed his surprisingly powerful baritone voice. He sang with good diction and spot-on intonation although the camp performance struck me as somewhat over-the-top. He became more restrained in his presentation of Rossini's solo song La Danza, a kind of novelty Neapolitan song which Rios sung in true Italian style. It also showed how well he can project his voice. He also gave a confident reading of the colourful aria Largo al Factotum from Rossini's opera The Barber of Seville. This aria requires remarkable diction to fit in all the words and the driving, rhythmic accompaniment from Anant Changwaiwit was compelling.
Another musical highlight was the duet from Mozart's opera Don Giovanni, La ci darem la mano, splendidly sung by Rios and Duangamorn with a good sense of ensemble and a finely judged accompaniment from Anant. A few years ago, Anant won First Prize in the Mozart International Piano Competition Thailand and is currently studying for his Master of Music degree at Mahidol. The prize-winning pianist Siri Sranoi has already completed his Bachelor and Masters degrees at the College of Music, Mahidol University.
Planning a vocal programme needs a thorough knowledge of each song and an understanding of how to contrast keys, dynamics, textures and moods. There also has to be a sense of flow. I feel sure that an expert hand was at work because the programme was exceptionally well-planned. It featured several duets which proved particularly popular with the audience. The Pa-Pa-Pa-Papageno duet from The Magic Flute was sung by Pariyachart and Rios with good diction, stage presence and presentation. In case you're wondering, this duet is sung in the opera by the bird-catcher Papageno who speaks bird language in short chirping syllables. His lady-friend, confusingly called Papagena, can also speak bird language. When they meet excitedly in the forest, they begin with bird-like chirping ("pa-pa-pa") of each other's names. The Mozart was in complete contrast to another duet, Sous le dôme épais from the opera Lakmé by Delibes. Pariyachart and Duangamorn sang with good intonation and lovely vocal tone and their voices blended perfectly. The poised and ethereal final chord of the song was magical.
Pijarin and Duangamorn excelled in the duet Prenderò quel brunettino from Mozart's Così fan tutte. Their voices blended well and they sang with a confident sense of ensemble. It was a well-planned performance in which the singers worked brilliantly together. The programme concluded with Lehar's evergreen duet Lippen Schweigen competently sung by Pijarin and Rios, and the evening ended with the entire ensemble singing the popular drinking song, the Brindisi from Verdi's opera La Traviata. Judging from the howls of approval, it was much appreciated by the audience, some of whom might have been doing a bit of drinking themselves.
(Published in the Pattaya Mail of Friday 25 January 2019 Volume 27 nr. 4)
PHOTO (L-R) Anant Changwaiwit, Duangamorn Fu, Pijarin Wiriyasakdakul, Ben Hansen, Pariyachart Sitthidamrongkarn, Rios Li and Siri Sranoi.
(Photo: Gary Hougen) ***
Musical byways
By Colin Kaye
If you glance at a handful of concert programmes or even a popular book about music it really does look as though the entire history of music was dominated by a handful of individuals. I refer of course to people such as Bach, Mozart, Beethoven, Brahms, Schubert, Tchaikovsky, and their famous contemporaries. These people were indeed giants in the pageant of musical history but it 's easy to forget that during the last four hundred years there have been hundreds of other composers beavering away and producing concertos, operas, symphonies and countless chamber works that are simply not played anymore. For one thing, concert-goers today generally prefer to hear works they already know and are less interested in obscure works by long-forgotten composers. Concert promoters are well aware of this preference and are sometimes reluctant to programme works which are not part of the mainstream repertoire.
This is a shame, because the musical byways of history offer just as much enjoyment and fulfillment as the motorway. So it was with particular interest that I attended a recent concert at Ben's Theater in Jomtien to hear a programme in which the two main works were by Heinrich von Herzogenberg and Carl Reinecke. They may be unfamiliar today but in their time they were considered important composers and influential musicians.
The concert was given by The Bandung Trio which consists of Cooper Wright (oboe), Bob Stoel (horn) and Hazim Suhadi (piano). They take their name from the Indonesian city of Bandung which is about the same size as Chicago and lies almost ninety miles southeast of Jakarta. In case you're wondering why both Cooper and Bob have worked as guest musicians with the Bandung Philharmonic Orchestra and Hazim was born there.
The Austrian composer Herzogenberg rejoiced in the name of Heinrich Picot de Peccaduc, Freiherr von Herzogenberg and as it implies, he was descended from a French aristocratic family. He was also a contemporary of Brahms who had been born ten years earlier and Herzogenberg's music was influenced significantly by the older composer. He was a prolific composer and wrote a vast amount of music including oratorios, orchestral works, two symphonies, chamber music, and many songs. The Trio in D for Oboe, Horn, and Piano was composed in 1889 and demonstrates the composer's highly original style. There is little evidence of Brahms in this genial, intimate work which is cast in four short movements. There are plenty of musical novelties and surprises and the Bandung Trio gave a compelling performance with some excellent rhythmic piano playing from Hazim Suhadi. This was especially noticeable in the Presto with its lively and characteristic "hunting theme" played on the oboe and horn. The Finale contained some surprisingly chromatic effects contrasted with beautifully played lyrical moments.
To my ears, the oboe and the horn don't blend as willingly as they do for example, in a wind quintet. There might be acoustic reasons for this but the science of it all is beyond my understanding. It's probably something to do with the overtones of the harmonic series. Even so, perhaps this is why works for piano, oboe, and horn are quite rare. I'd guess that writing successfully for this combination is demanding, just to get the balance right. Carl Reinecke certainly achieved success in his splendid Trio in A minor for Oboe, Horn and Piano which dates from 1887. For me, this was the highlight of the concert.
Carl Reinecke was a person who excelled in virtually every musical field in which he was involved. In his earlier days, he was considered one of the finest concert pianists anywhere and his many compositions were widely performed. As a successful conductor, he turned the Leipzig Gewandhaus Orchestra into one of the finest orchestras in the world. He was a renowned teacher of composition whose students included Grieg, Bruch, Janacek, Albeniz, and Delius.
Several historians have claimed that Reinecke's Trio in A minor for Oboe, Horn, and Piano is probably the finest of its type. The Bandung Trio seemed at their best in this splendid work. The lyrical opening theme was superbly played by Cooper who always has a fine, clear tone and an excellent sense of phrasing. The sprightly and delicate second movement showed the trio in excellent form. Some beautifully wistful piano playing from Hazim opened the slow movement followed by a fine horn solo from Bob, a lovely melancholy tune which had a fin de siècle feeling about it. The bustling Finale must have sounded quite modern to listeners in the 1880s. At one point, there's even a surprising hint of Poulenc. It brought the work to a resounding climax much to the delight of the audience which responded enthusiastically. The concert closed, most appropriately with an arrangement of a folk song from Indonesia.
(published in Pataya Mail of Friday 7 December 2018)
Casting Spells
The TPO String Quartet at Ben's Theater, Jomtien
by Colin Kaye
From the first few notes, there was a sense that the audience at Ben's Theater were in for a magical experience. A hushed, vibrant B flat played by violinist Omiros Yavroumis, a spell was being cast. The work was Samuel Barber's haunting Adagio from his string quartet written in 1936 while he was spending the summer in Europe. It has become one of the iconic pieces of the twentieth century. The writer Thomas Larson commented that the movement "evokes a deep sadness in those who hear it." Alexander J. Morin described the piece as "full of pathos and cathartic passion (which) rarely leaves a dry eye." Such is the emotive power of the piece that it was broadcast after the announcement of the deaths of Franklin D. Roosevelt and John F. Kennedy. It was played at the funerals of Albert Einstein and Princess Grace of Monaco. In the year of its composition, the composer also made an arrangement for string orchestra and that is the version most often heard.
And so it was a rewarding pleasure to hear the work in its original form for string quartet, in which the separate threads of melody can be more clearly heard. It's a long melody too, which weaves its way forward as the pitch of the music gradually rises. The tension increases too until the music reaches a breath-taking climax with four sustained chords followed by a long pause. Then the music returns to the sublime quietness of the opening and gradually drifts back to the tranquil but slightly unsettling place where it started.
The TPO Quartet gave a powerful account of the work and their combined rich string tone was impressive. It was a magical experience. Omiros and his colleagues are all principal players in the Thailand Philharmonic Orchestra. They're also a truly international quartet. The leader Omiros Yavroumis is from Greece, violinist Sreewan Wathawathana is from Thailand, viola player Aibek Ashirmatov is from Uzbekistan and cellist Urszula Kopijkowska hails from Poland. Needless to say, they are all highly experienced musicians with many competitions, concertos and years of study already behind them.
The musical adventure continued with one of Haydn's late quartets. He was pushing seventy when he wrote it, and with dozens of string quartets already published he was a master of the genre. The String Quartet Op 77 No 1 is a captivating work and the robust first movement is full of rhythmic vitality with typical touches of musical humour, fuelled by Haydn's ever-fertile imagination. The players excelled themselves in this charming music with excellent sense of phrasing and balance. The lyrical, almost operatic second movement featured superb solo playing from Omiros, with beautifully measured accompaniment from the other strings. The dance-like third movement is packed with musical ideas and in the fourth movement there are some virtuosic octave passages which were played with remarkable precision and drive.
In 1892 at the age of fifty, the Czech composer Antonin Dvorak moved from his native land to become the Director of the National Conservatory of Music in New York. As it turned out, he stayed there only three years but during that time he wrote three of his most successful works, the New World Symphony, the Cello Concerto and the String Quartet No 12 Op 96, popularly known as the "American". It was to become one of the best-loved works in the repertoire and many years ago as a music student, I often played this quartet. It was the final offering in the TPO Quartet concert and for me it was like meeting an old friend. The work is full of catchy rhythms and lovely melodies, some of which use the five-note pentatonic scale. It's tempting to compare the tunes with those of the New World Symphony some of which are also pentatonic. Certainly both works share the same joyful and optimistic mood, for Dvorak wrote this quartet during his summer holiday of 1893 in the Iowa village of Spillville, the home of a Czech immigrant community. The TPO Quartet cast their musical spells yet again in their exuberant performance. The viola solo which dominates the first movement was admirably played by Aibek Ashirmatov and I was impressed by the sensitive playing of the second theme by Omiros Yavroumis. The lyrical second movement shows the composer at his most expressive with some lovely singing cello solos from Urszula Kopijkowska who produces a remarkably sonorous tone. The last movement, with its scampering playful melody and rhythmic drive contrasted with moments of reflective beauty, brought further reminders of the New World Symphony. It was a fitting climax to a brilliant concert.
But a final surprise was to come. The encore piece by the Danish composer Jacob Gade, is one of those numbers that everyone recognises but few can name. It was the familiar Tzigane tango Jalousie, first performed in 1925. Over the years, it earned its composer a fortune. Violinists Omiros Yavroumis and Sreewan Wathawathana gave a captivating performance, ably supported by passionate playing from the lower strings. The ravishing gipsy-style music evidently inspired our host Ben Hansen, who was glimpsed in the semi-darkness dancing a tango of his own. Yes, music can cast spells, sometimes in unexpected ways.
(this review was published in the Pattay Mail of 23 November)
Dazzling Virtuosity
by Colin Kaye
Dazzling Virtuosity
by Colin Kaye
If you didn't manage to get along to the recent concert at Ben's Theater in Jomtien you missed an amazing evening. The star of the show was the young Thai prize-winning pianist Gun Chaikittiwatana, who presented a programme of music by Bach, Brahms, Chopin, Saint-Saëns, Debussy and Ravel. The concert mostly featured music composed for the left hand. Some people think it's an odd and remarkable thing that piano music exists for one hand. But there are hundreds of examples. In his book entitled One Handed: A Guide to Piano Music for One Hand the American pianist Donald Patterson identifies over two thousand such works. Interestingly, the vast majority of these pieces are for the left hand rather than the right, but I shall leave you to ponder this interesting statistic and form your own conclusions.
It wasn't until the invention of the damper pedal in the nineteenth century that one-handed piano music became a reality. The sustaining pedal and the central sostenuto pedal opened new composing possibilities because they allowed notes to sound after the keys had been released. Clara Schumann was one of the most distinguished German pianists of her time. When in 1877 she strained her right hand, Johannes Brahms came to the rescue with a left-hand arrangement of Bach's famous Chaconne in D minor.
Gun Chaikittiwatana opened his recital with this very work, which was more than coincidence because he too has been suffering from right-hand strain. "The reason I chose to perform a programme of mainly left-hand music," explained Gun, "is because last year I experienced tension in the right-hand thumb. It limits the flexibility of the thumb significantly, though there's been no pain. The doctors I consulted suggested that I should stop playing with right hand for a while. It's now recovering through various physical therapies, but the actual cause of the problem remains unknown."
Introducing the programme himself in English, Gun then gave a measured and impressive performance of the Bach, bringing out the melodic lines clearly with a beautiful sense of phrase. His playing reminded me of Debussy's cryptic remark that "the music lies in the spaces between the notes". Gun then played Six Studies for the Left Hand written in 1912 by Camille Saint-Saëns. In the form of a Baroque suite, each movement presents different technical challenges. But there's also a French lightness of touch, something in which Saint-Saëns excelled and which Gun brought out in his confident performance. One sensed the intense rhythmic vitality of music, the elegant phrasing, the rich expressive qualities and the touches of Gallic humour.
After the interval, Gun gave a poetic and thoughtful performance of Chopin's dreamy Nocturne Op 27 No 2 and as usual played with a clear sense of phrasing and style. Gun is currently studying for his Bachelor degree in Piano Performance at the Mozarteum University in Salzburg. He has given acclaimed performances of Chopin's First Piano Concerto, Tchaikovsky's First Piano Concerto and Rachmaninoff's Second Piano Concerto, all with the Thailand Philharmonic Orchestra. In 2013, Gun received First Prize and Soloist Award from the International Chopin Piano Competition in Asia.
Claude Debussy wrote his Twelve Piano Studies for Eight Fingers in 1915 and they're not easy. Gun's confident and technically assured performance of Etude No 6 was virtuosic. The main work of the concert was Ravel's Piano Concerto for the Left Hand. The orchestral part was played on a Yamaha digital piano by Kant Lormsomboon, another young man of extraordinary talent. Kant began studying piano at the age of five and was later a prize-winner in many competitions in Thailand. Kant graduated with a Bachelor Honours Degree in Piano Performance at Chulalongkorn University. Incidentally, you can see Gun and Kant playing this Ravel concerto on YouTube as well as Gun's performance of the complete set of Saint-Saëns studies.
Before Ravel began this concerto in 1929, he poured over the Studies for the Left Hand by Saint-Saëns, absorbing the composing techniques. The concerto was written for Austrian pianist Paul Wittgenstein whose right arm was amputated after he was wounded during WW1. He was incidentally, the elder brother of philosopher Ludwig Wittgenstein. Ravel's concerto is a powerful, dramatic work with subtle jazz influences and makes extraordinary demands on the soloist. The mysterious opening gradually builds tension and leads into a jaunty, galumphing melody which dominates the work. Gun played this effortlessly, accompanied by insistent repeated choral patterns played by Kant with impeccable precision on the second piano. The concerto culminates in a monumental cadenza and Gun gave a heroic performance. The sound of the 100-year-old Stieff grand piano and the Yamaha digital piano blended surprisingly well. This two-piano version of the concerto was a musical revelation, because the complex orchestral parts were revealed in striking clarity. Gun and Kant gave a truly dazzling performance which displayed brilliant virtuosity, technical assurance, precise ensemble playing and splendid musicianship. To my mind, this was one of the finest musical performances that Ben's Theater has ever presented.
(This review has been published in the Pattaya Mail edition of Friday, August 31).
Gun Chaikittiwatana
---
FLTR: Ami Napawan, Brendan-Keefe Au and Ayano Schramm-Kimura
International Mix at Ben's
by Colin Kaye (published in Pattaya Mail of 30 March 2018)
Take a Thai pianist, a Japanese soprano and a Singaporean tenor (and some music of course) and you have the ingredients for an enjoyable musical evening. This was the line-up at Ben's Theater recently when three international musicians joined together for a programme of vocal music. The concert opened with an instrumental item: an attractive performance of three of the Nocturnes for Piano by the French composer Francis Poulenc by Ami Napawan. She provided all the piano accompaniments at the concert yet studied political science for her undergraduate studies and was awarded a degree of International Relations from Chulalongkorn University. It was not until her postgraduate study that Ami decided to return to music studied at the College of Music at Mahidol University where she received her Master in Music degree. She gave a competent performance of the piano pieces and brought a pleasing reflective quality to the haunting Les cloches de Malines.
Japanese soprano Ayano Schramm-Kimura opened her recital with an aria from Alfredo Catalani's curiously named opera La Wally, which is actually an abbreviation of the name of Walburga, the heroine of the opera. From the first few notes, I was struck by the beauty of Ayano's tone which is soft and appealing in the lower register. It was followed by arias by Bellini and Verdi but for me, the Catalini remained the highlight. Ayano began her musical studies at the age of four in Tokyo. When she was fifteen, she was accepted at Rugby School in Britain, where she excelled in piano and singing. In later years she completed her Master's degree in Music Performance at Mahidol University.
Singaporean tenor Brendan-Keefe Au started singing at the age of twelve in the Anglo-Chinese School choir where he was a student. His opening number was the popular tenor aria Una Furtiva Lagrima from Donizetti's 1832 comic opera L'elisir d'amore. He has a powerful voice and particularly effective in the quieter sotto voce passages. His intonation is good too, which to mind is essential for a singer. It might sound obvious, but I have heard so many singers – even professional ones – who regularly sing out of tune. Brendan-Keefe is also technically assured and one of the highlights was his dramatic performance of the aria Si, ritrovarla io giuro from Rossini's opera La Cenerentola. Rossini completed the opera in a mere three weeks, or so he said. He was twenty-five at the time and was basking in the success of the better-known opera Barber of Seville which had been first performed the previous year.
The second half of the concert opened with Ayano's performance of the song Chère Nuit by the little-known French composer Alfred Bachelet. It was a good start, though I thought that her performance of Wagner's aria Gebet der Elisabeth was much more successful because it is quiet for most of the time and allowed Ayano's striking tone quality to come through. Her tone quality in the quieter passages is pure and refined.
Brendan-Keefe Au returned to the stage for his performance of Meyerbeer's aria Je crois entendre encore from the opera L'Africaine (The African Woman) by Giacomo Meyerbeer, considered one of the most successful stage composers of the nineteenth century. Brendan-Keefe gave a good solid performance of the aria with excellent high vocal tone and a sympathetic piano accompaniment from Ami Napawan. Another highlight of the evening was the song Chanson Triste by the French composer Henri Duparc, in which the singer's well-controlled voice showed at its best. Brendan-Keefe Au is a graduate of the National University of Singapore and he holds a First Class Honours degree in Social Sciences and has also studied Law.
He concluded his set with two songs by Kurt Weill; a dramatic performance of the song Surabaya Johnny from the 1929 musical Happy End followed by the tango Youkali also by Kurt Weill. Ayano returned for the last number, the appropriately chosen song I'll See You Again by Sir Noël Coward. The singers gave an engaging performance of the song and as their encore sang There are fairies at the bottom of our garden the setting of a poem written (in all seriousness) by the English writer Rose Amy Fyleman and later set to music by Liza Lehmann. The camp and over-the-top performance was much appreciated by the audience.
---
French Delights in Jomtien
By Colin Kaye
It's not often that you hear the words "French chamber music" and "Jomtien" in the same sentence. But the two coincided recently when three musicians from Mahidol University's College of Music gave a performance of (mostly) French chamber music at Ben's Theater. Oboist Cooper Wright has recently returned from Indonesia where he performed as Principal Oboist with the Bandung Philharmonic and with the Amadeus Symphony Orchestra in Jakarta. He was previously the Principal Oboist of the Thailand Philharmonic Orchestra and was joined by bassoonist Dr. Christopher Schaub who is also on the staff of the College of Music, Mahidol University and has many research interests. Pianist Yoshimi Sato has been on the piano faculty of Mahidol University College of Music and is a piano accompanist of the Kita-Kyushu City Kokura Junior Chorus in Japan.
Needless to say, these are fine musicians and the audience at Ben's Theater was treated to a superb evening. The performers had carefully included some lesser known works and I was full of eager anticipation. Judging by the general frisson in the bar before the concert, so was everyone else.
Camille Saint-Saëns is perhaps best-known for The Carnival of the Animals, which he wrote as a bit of fun. But he wrote other works too, including a dozen operas as well as symphonies, concertos, chamber music and songs. The oboe sonata dates from 1921, the last year of his life. The first three notes of the sonata quote the Westminster chimes sounded by London's famous clock, known erroneously as Big Ben. Cooper's tone quality, phrasing and articulation were impressive. The tempo of each movement increases and the virtuosic last movement is an enormous technical challenge which Cooper played superbly.
The music of Gabriel Pierné isn't played often these days, despite the fact that he wrote several operas, choral works and symphonic pieces. He was also a conductor and in 1910 conducted the world premiere of Igor Stravinsky's ballet The Firebird. Pierné wrote his Solo de Concert for bassoon and piano in 1898 and a dramatic piece it is too, with a heroic first movement and a wealth of lovely melodies. Chris Schaub produces a striking lyrical tone in the high register and a rich powerful sound in the bass notes. This work proved an excellent showcase for his performance skills and pianist Yoshimi Sato provided confident performances throughout. The sound of the eighty-year-old Steiff grand piano was perfect because it reflected the tone quality with which the composers would have been familiar.
Before performing Poulenc's remarkable Sonata for Oboe, Cooper explained its historical significance. Dating from 1962 it was dedicated to the memory of Sergei Prokofiev who had died nine years earlier. Poulenc purposely made it a challenging work to play and it uses the extreme notes of the instrument in close proximity to each other requiring exceptional skill to perform them accurately. There are sudden changes of mood and sharp contrasts in the music. It's a bit like leafing through a photograph album and seeing a frozen moment in someone's life. Except that Poulenc's music is anything but frozen – it's at times playful, theatrical, mischievous, declamatory and often lyrical. Poulenc had a great gift for melody and this shows itself in the tender and affection music in the second movement. It's thought that the last movement, entitled Déploration is the last piece Poulenc wrote before he died. It has moments of anger and passion but it fades away at the conclusion, ending on a plaintive sustained E flat on the oboe with subdued low chords on the piano. It's virtually an obituary to Prokofiev.
Ferdinand David's Concertino for Bassoon is a light and airy work dating from 1840 and the second dance-like movement with its lilting melodies has a prominent piano part which Yoshimi Sato handled with confidence. Chris gave a splendidly assured performance which brought hoots of delight from the audience. Incidentally, Ferdinand David was born in the same house in Hamburg where Mendelssohn had been born the previous year.
Poulenc's thoroughly charming Trio for Oboe, Bassoon, and Piano was composed in Cannes in 1926 showed the musicians at their best, with a superb sense of ensemble and fine dynamic control. The pastoral second movement exudes Gallic charm and always reminds me of a riverbank scene from the book Wind in the Willows. It was given a telling performance with lovely woodwind tone and expressive piano playing. The brilliant spiky finale was superbly played much to the obvious delight of the audience.
Finally, as an encore piece, the trio performed the last movement of a work by the French oboist and composer Theodore Lalliet. It turned out to be a spirited if slightly eccentric musical romp, but it brought a superb concert to a joyful close.
(This review was published in Pattaya Mail of 2 March 2018)
---
(l-r) Siri Sranoi, Pijarin Wiriyasakdakul, Duangamorn Fu, Pariyachart Sitthidamrongkorn and Anant Changwaiwit.
An Evening of Firsts
By Colin Kaye
(published in Pattaya Mail issue 19 January 2018)
Last weekend it was an evening of firsts at Ben's Theater in Jomtien. It was the first concert of the season and it marked the first appearance of two remarkably talented pianists from Mahidol University's College of Music. It was the first appearance at Ben's of an American Stieff grand piano and it was probably the first time that three hugely talented sopranos appeared on Ben's stage simultaneously.
The well-planned programme featured a selection of songs and opera arias and it was refreshing that the performers tended to avoid music from the shows. The full house proved that singers don't need to bring out from the musicals to attract an audience. I was pleased that the singers included some lesser known music in their programme. The opening number was the delightful aria Fair Robin I Love from the 1980 opera Tartuffe by the American composer Kirke Mechem. Pariyachart Sitthidamrongkorn has a compelling and powerful voice, a splendid stage presence and she sang with spot-on intonation. Du sollst der Kaiser meiner Seele sein comes from Robert Stolz's operetta Der Favorit and was beautifully sung by Duangamorn Fu who has a soft lyrical voice ideally suited to this kind of aria. The song rather reminded me of that famous Neapolitan song Come Back to Sorrento, which was composed sixteen years earlier. For her opening number, Pijarin Wiriyasakdakul chose the so-called Laughing Song from Strauss's Die Fledermaus. She gave a confident performance; technically assured with accurate intonation and appeared perfectly at home on the stage.
Pariyachart and Duangamorn gave a lovely performance of the Letter Duet from Mozart's Le Nozze di Figaro and Pariyachart was excellent in her expressive performance of Ouvre tes yeux bleus, a charming song by the French composer Jules Massenet. Pariyachart performed it with a fine sense of phrasing and her intonation was spot-on throughout. For me at least, this was one of the highlights of the concert. Pijarin gave a performance of the popular aria O Mio Babbino Caro from Puccini's opera Gianni Schicchi and the first half of the concert concluded with the well-known song The Prayer.
The concert interval provided an opportunity have a much-needed glass of wine and read about the singers. All three are from the College of Music at Mahidol University where they are pupils of Prof Nancy Tsui-Ping Wei, whose students have won many international awards at prestigious competitions. Pijarin, for example, won a prize in the Barry Alexander International Vocal Competition in New York and a prize at the Osaka International Music Competition in Japan. She was the soprano soloist in the acclaimed performance of Carl Orff's Carmina Burana with the Thailand Philharmonic Orchestra. Pariyachart has won prizes in opera performance at the Osaka International Music Competition in Japan and Duangamorn was one of the finalists in the Osaka International Music Competition. She was also one of the Silver Prize recipients in the 18th Settrade Youth Music Competition.
The second half of the concert opened with by Johann Strauss's the ever-popular song Frühlingsstimmen which was originally an orchestral waltz with the optional solo soprano voice. Pijarin gave a technically brilliant performance of the song and it was followed by a magical performance by Pijarin and Duangamorn of Der Engel, a charming two-part song by Anton Rubinstein composed in 1873. Their voices blended perfectly and they were helped with a lovely accompaniment from pianist Siri Sranoi who studied at the College of Music, Mahidol University where he has already graduated with Bachelor and Master degrees. The duet was one of the many highlights of the evening. Another highlight was Pariyachart's singing of the well-known song Il Bacio by Luigi Arditi. It was a tremendously competent performance with splendid piano support from Siri too.
Duangamorn's comparatively soft vocal tone was ideal for the aria Ah, non credea mirarti from Bellini's opera La Sonnambula although I thought she was at her best in the aria Je veux vivre from Gounod's opera Roméo et Juliette. In this aria she was given excellent support from the piano by Anant Changwaiwit, currently studying for his Master's Degree at the College of Music, Mahidol University. Anant is a concert pianist in his own right and has performed the Saint-Saëns Second Piano Concerto, Prokofiev's Third Piano Concerto and Tchaikovsky's First Piano Concerto with the Mahidol Symphony Orchestra.
Pariyachart gave a lovely performance of the strangely melancholy song Wien, du Stadt meiner Träume by Rudolf Sieczyński which showed excellent musical team-work between singer and accompanist. The last item on the programme was the famous Drinking Song from Verdi's opera La Traviata, performed with tremendous panache by all three sopranos. With a commanding stage presence, the singers brought the song to a triumphant conclusion. It was so triumphant that the entire audience gave the singers and pianists a standing ovation.
I almost forgot to mention another star of the show – the eighty-year-old grand piano. Steiff pianos (the name rhymes with "leaf") were built in Baltimore are still highly regarded. This particular instrument is on loan to Ben's Theater from Kyle Greenlee, an American piano technician, and Pattaya resident. The piano has a mellow tone especially in the tenor register and a good solid overall sound. It certainly enhanced the performance occasion. Digital pianos have come a long way and often sound excellent (I have one myself) but you can't beat the rich resonance of the real thing.
The singers must have been tipped off that Ben's birthday was soon to arrive, because they gave a lively and unexpected performance of Happy Birthday to You, while pianist Anant then played entertaining variations on the song in the style of different composers. It was a lovely musical surprise to end the evening.
---
Fabulous Five in Jomtien
(review)
(l-r) Cooper Wright, Inga Causa, Mahakit Leardcheewanan, Marcin Szawelski and Danny Keasler. (Photo: Ben Hansen)
by Colin Kaye
For the second time in recent months The Salaya Ensemble, this time in the form of a quintet, made another highly successful appearance at Ben's Theater in Jomtien. The response from the audience was warm and enthusiastic and one of the listeners described it as "a marvelous night of exceptional music-making". The standard was remarkably high and wouldn't have been out of place in an international concert hall. The Salaya Quintet is made up of key members of the Thailand Philharmonic Orchestra, arguably the finest orchestra in the country. They include Cooper Wright (oboe), Inga Causa and Mahakit Leardcheewanan (violins), Danny Keasler (viola) and Marcin Szawelski (cello).
The start of the concert rather caught me by surprise because the first work, a Mozart oboe quintet, appeared to have a player missing and didn't really sound much like Mozart. It slowly dawned on me that the programme order had been changed and we were actually listening to a quartet by Carl Stamitz. I suspect some other members of the audience might have been equally bewildered. Stamitz, who had a riches-to-rags life story was one of the most influential of the Mannheim School of composers. His Quartet in D minor Op. 8 No. 1 appeared in 1773 and was written in the so-called gallant style in which simplicity and elegance were the order of the day. The finely-judged instrumental balance was remarkable throughout the work, the rich and sonorous string tone contrasting perfectly with Cooper Wright's warm and focused oboe sound. There was some beautiful playing and sensitive timing in the aria-like second movement, and the bustling finale with its answering phrases and contrapuntal devices was given a sprightly and exuberant performance.
Mozart's Oboe Quintet in C minor began life as a serenade for wind instruments. In 1788 he transcribed it for strings and later made yet another arrangement for oboe and string quartet. The substantial first movement was given a confident performance with superb articulation and careful regard for dynamic contrast. The lyrical Andante is delightful with its sumptuous harmonies and made even more so by the accomplishment playing and the expressive "placing" of the notes. The sensitivity and quality of the performance reminded me of the enormous chasm that lies between a good amateur musician and a professional one. It also reminded me of Debussy's thought-provoking remark that "music is the space between the notes".
After the interval the audience was treated to Mozart's delightful Adagio for Cor Anglais and String Trio. The cor anglais is an alto oboe with a characteristic pear-shaped bell and I was impressed with Cooper Wright's exceptionally warm and radiant tone quality on the instrument. He gave a sensitive and thoughtful performance of this charming aria-like work and was ably supported by sonorous string tone.
I was particularly taken with the radiant performance of Hugo Wolf's Italian Serenade for String Quartet which made a delightful contrast. It's an optimistic work, full of colour and Italian sunshine with several unexpected touches of humour. I'd played the work once as a student cellist, but I'd completely forgotten about the many tricky passages to negotiate. The Salaya players, confidently led by Inga Causa gave a stylish performance with an impeccable sense of ensemble, compelling timing, control of dynamics and an expressive cello solo from Marcin Szawelski.
The last item on the programme was the three-movement Quintet for Oboe and Strings by the English composer Sir Arthur Bliss. It's a bittersweet work which moves from a pastoral setting at the start to more lively and dance-like music shifting through shades of colour and mood, sometimes playful, sometimes wistful and sometimes dramatic. Perhaps for these reasons, apart from getting all the notes in the right place, it's quite a challenging quintet to perform. It was clear that The Salaya Quintet had put a huge amount of work into the rehearsals. As usual, the string tone was impressive and throughout the work the blending of the individual instruments was impeccable. The sense of Englishness was noticeable in the second movement with its shades of Delius and the technically-demanding third movement brought the work firmly into the twentieth century. The musicians handled the difficulties of this movement (which contains a vivacious Irish sort of jig) with tremendous aplomb and received a well-deserved and enthusiastic ovation from the audience. The concert brought the current season of events at Ben's Theater to a triumphant close.
"Originally published in the Pattaya Mail on 10th March 2017. Copyright Pattaya Mail Publishing Co Ltd".
---
FLTR: Pijarin (Kaykay) Wiriyasakdakul, Duangamorn (Wenlin) Fu, Ben Hansen, Thanaporn (Tip) Pramweang and pianist Yoshimi Sato.
Sensational Sopranos
By Colin Kaye
From the first few notes of the Pastorale by Camille Saint-Saëns, it was clear that the audience at Ben's Theater in Jomtien were in for an exceptional evening. Thanaporn Promweang (Tip) and Duangamorn Fu (Wenlin) performed the duet with perfect intonation, a superb blending of voices and charming stage presence. Despite the fact that this was the first number of the concert it was to my mind at least, one of the highlights of the evening. Both Tip and Wenlin have fine vocal tone quality with perfectly judged and virtually synchronized vibrato producing a richly focused sound.
Pijarin Wiriyasakdakul (Kaykay) then took the stage with a telling performance of Richard Strauss's lyrical song Die Nacht. She too produced splendid tone quality and has excellent intonation. She also has a commanding stage presence and seemed to enjoy her warm and confident contact with the audience. The three singers seemed to have much in common: confident stage deportment, finely focused and resonant tone quality and a tasteful use of vibrato. I began to think that these talented singers probably have the same voice teacher. Later in the evening, Ben Hansen confirmed that they are all students of Professor Nancy Tsui-Ping Wei of the Classical Voice Department at Mahidol University's College of Music. That explained it.
The duets were probably the highlights of the concert because the voices were so perfectly blended and balanced. Kaykay and Wenlin gave a remarkable performance of two Mendelssohn songs, Abendlied and the more well-known Auf Flügeln des Gesange. Their voices matched each other perfectly and their sense of phrasing and clear German diction was impressive. It was becoming obvious that these singers have much experience behind them. Kaykay started singing at the age of thirteen and was later admitted to Mahidol's Pre-College Music Program. During the following years she was a recipient of the College's scholarship awards. In 2014 she won prizes at both the Barry Alexander International Vocal Competition in New York and the Osaka International Music Competition in Japan. Last year, Kaykay succeeded among four hundred candidates to become a semi-finalist in the International Singing Competition of Toulouse in France.
Wenlin began studying piano at the age of four and singing at seven. When in junior high school she was awarded Silver Prize in the Settrade Youth Music Competition. In the following year, she was accepted in the Pre-College program at the Mahidol's College of Music. In 2014 she started voice tuition there and the following year was a finalist in the Osaka International Music Competition.
Tip presented a confident and poised performance of Fauré's Clair de Lune. Tip has a splendid stage presence and seems to have a natural ability to connect with the audience. Like Wenlin, she started music lessons at the age of four. She began singing lessons at seventeen and has performed at the Music Auditorium at Mahidol's College of Music and at the Bangkok Art and Cultural Centre. Tip has received a number of prizes in recent years including gold medals in singing competitions. She brought a compelling sense of drama to Mozart's aria In Uomini, in soldati.
Kaykay's rich and finely focused tone quality was evident in Debussy's well-known song Nuit d'étoiles. Another highlight of the evening was the Saint-Saëns Ave Maria, a duet sung by Kaykay and Wenlin. Their voices blended perfectly and the intonation was remarkably accurate with a fine sense of ensemble. They were ably supported by pianist Yoshimi Sato who provided beautifully sensitive piano accompaniments throughout the concert. She is an official accompanist at Mahidol's College of Music and is accompanist of the Kita-Kyushu City Kokura Junior Chorus in Japan. She began her piano lessons at the age of five and later attended Musashino Music Academy in Tokyo where she graduating with a Bachelor of Music in Piano Performance.
Frühlingsstimmen ("Voices of Spring") by Johann Strauss II is a well-known orchestral waltz with optional soprano. It's a technically demanding work requiring an agile voice and Kaykay gave a remarkable performance of the piece with its florid melody and tricky staccato passages. Her singing brought an enraptured response from the audience.
While the first half of the well-planned programme was mostly French and German art songs, the second half was devoted to opera arias and duets. Tip and Wenlin gave a confident performance of Ah Guarda Sorella from Mozart's "Così Fan Tutte" while another highlight was Kaykay and Tip's performance of the Barcarolle from "The Tales of Hoffmann". It was a splendid performance of the well-known piece. I especially enjoyed Kaykay's singing of Dvořák's Song to the Moon. She gave a sensitive performance of the song, her voice literally floating above Yoshimi's delicate piano accompaniment. The final number of the evening was a confident performance of Humperdinck's Evening Prayer from "Hansel and Gretel". There was some beautifully controlled singing from the three sopranos and the piece - moving in its simplicity - brought the concert to a delightful close.
Originally published in the Pattaya Mail on 3rd March 2017. Copyright Pattaya Mail Publishing Co Ltd".
---
FLTR: Yossral Songkiatkul, Varissara Tanakom, Vannophat Kaploykeo
Spectacles at Ben's Theater
by Colin Kaye
The Bangkok-based Brille Trio made its first appearance recently at Ben's Theater Jomtien, playing a challenging programme of fascinating music. The Trio has been together for the last couple of years and performed at the Bangkok Arts and Cultural Centre and also at the College of Music at Mahidol University. It's made up of three young and exceptionally talented musicians, all of whom wear spectacles. The word for spectacles in German is brille, hence the name.
The concert opened with the Suite No. 1 in G major by Johann Sebastian Bach, one of the six he wrote for unaccompanied cello. Every student cellist encounters these suites sooner or later and the first is the best known. Vannophat Kaploykeo has a rich, powerful cello tone and the first movement, with its arpeggio-like open string patterns emphasizes the sonority of the instrument. The second and third movements, an allemande and a courante were fluently played and the slow sarabande was exceptionally telling; a lovely performance with careful and sensitive use of rubato. I was also impressed with the two neatly-performed minuets in which Vannophat used contrast of tone, dynamics and phrasing. He seemed to emphasize the rustic quality of the lively, energetic final movement.
Vannophat began cello lessons at the age of ten with Yukihisa Nakagawa and is currently a student of Juris Lakutis, principal cellist of the Thailand Philharmonic Orchestra. Vannophat was chosen as principal cellist of the Salaya Chamber Orchestra during the spring 2015 season and he won First Prize at the Princess Galyani Vaddhana International String Ensemble Competition. He made a previous visit to Ben's Theater last year with the talented Tour de Trio. He will shortly be starting his studies in Barcelona under a five-month Erasmus Plus scholarship, a European Union student exchange programme.
Varissara Tanakom was the next to take the stage, with a remarkably beautiful performance of the Meditation from the opera "Thaïs" by Jules Massenet, a piece that has become more well-known than the opera itself. Varissara has a lovely singing, delicate violin tone and produces a beautiful sound especially on the lowest string of the instrument. Her intonation is accurate and she has a fine control of phrasing and dynamics. Varissara is also a graduate of the College of Music at Mahidol University and majored in Classical Music Performance. She has performed with the Thailand Philharmonic Orchestra, the Siam Sinfonietta and the Siam Philharmonic Orchestra.
Vannophat played Le Cygne from "Le Carnaval des Animaux" by Camille Saint-Saëns. This is every cellist's party piece and the penultimate movement of the famous and amusing zoological suite. Vannophat provided a lovely performance of the work and the slow melody showed his beautifully controlled cello tone. Intonation as usual was spot-on and his playing confident and expressive.
The piano accompaniments to both the Massenet and the Saint-Saëns pieces were provided by Yossral Songkiatkul who is not only a sympathetic accompanist but seems to have an intuitive sense of timing. He's also a graduate of the College of Music at Mahidol University. He has already completed his Bachelor of Music, majoring in piano performance and is currently studying for his Master of Music in conducting. He was one of the five finalists of Conrad Young Musician of Thailand Competition.
Après un Rêve by Gabriel Fauré is actually one of the composer's best-loved songs but the Brille Trio performed an effective instrumental arrangement by the Japanese pianist and composer Akira Eguchi. The young musicians provided a delightful performance of the work and Vannophat's quiet cello tone near the beginning of the work was particularly expressive. Both Varissara (violin) and Yossral (piano) played beautifully and the sense of ensemble was excellent. I especially enjoyed the confident and resonant support from the piano.
The second half of the concert began with the Suite for Solo Cello by Gaspar Cassadó. Like the Bach suite, the work begins with an improvisatory-style prelude followed by dance movements. But Cassadó adds something more: the local colours of his native Spain. Vannophat gave a superb reading of this difficult work. The first movement uses the entire range of the instrument and includes extremely high notes known as harmonics, which Vannophat played faultlessly. The second movement, with its catchy Spanish folk melodies was especially well performed. The last movement has a lyrical introduction with finely timed pizzicato chords and the fast concluding section with its echoes of Shostakovich was rhythmic and energetic. This work contains many technical challenges but Vannophat gave a superb performance throughout and brought out the intensely Spanish flavour of the music.
The concert ended with the rarely-played composition for piano trio by Joaquin Turina. Entitled Círculo, it dates from 1936 and is based on the recurring cycle of dawn, midday and dusk. It was the composer's last composition before the outbreak of the Spanish Civil War and the Brille Trio gave a superb performance of the work, bringing out the intensely lyrical qualities of the music with rich and powerful string tone and fine piano playing. The music is intensely Spanish in flavour with plenty of local colour and the performance displayed a wonderful sense of ensemble and precision. The audience was visibly impressed by the professional and confident playing of these enormously talented young musicians.
"Originally published in the Pattaya Mail on 3rd February 2017. Copyright Pattaya Mail Publishing Co Ltd".
---
(l-r) Saran Senavanin (Rain), Auranus Yuenyonghattaporn (Jing), with pianist Morakot Cherdchoo-ngarm.
Review of concert at Ben's Theater 26th November 2016
A Night of Vocal Classics
by Colin Kaye
A friendly and enthusiastic audience welcomed members of Grand Opera Thailand to a concert at Ben's Theater in Jomtien recently. They included Auranus Yuenyonghattaporn (soprano), Saran Senavanin (baritone) together with pianist Morakot Cherdchoo-ngarm. Saran (Rain) opened the programme with the aria Et in Spiritum sanctum from Bach's Mass in B minor and it was clear that his voice has grown in strength since his last appearance here. He seems more confident too and his assured performance of this rather challenging aria was well received. I was impressed by his accurate intonation and careful phrasing. Of course, Rain is no stranger to Ben's Theater and has appeared there many times. He began his professional career six years ago with Opera Siam and played key roles in Bizet's "Carmen" and in Puccini's "Tosca". In 2012, he performed in Somtow Sucharitkul's opera, "Mae Naak" at the Bloomsbury Theatre in London. This year, he is a featured artist with the Japan-America Institute for New Music.
The Bach aria was followed by three delightful songs by Gabriel Fauré. Les Roses d'Ispahan was composed in 1885 and it's one of the composer's best-known songs. Auranus (Jing) captivated the audience with a charming performance. Her voice was perfect for this song - a beautiful, delicate sound with bell-like clarity and spot-on intonation. Fauré's well-known Au Bord de l'eau comes from an early set of songs and Rain gave a confident performance with a smooth transition into the high register in which he produces a lovely tone quality. This was also noticeable in Clair de Lune, another popular song by Fauré, composed in 1887 to words by Paul Verlaine and once described as "the quintessential French melody". The ever-reliable Morakot Cherdchoo-ngarm provided beautifully lyrical accompaniments.
Jing gave a superb reading of two songs by Robert Schumann composed in 1840. Die Lotusblume is a popular recital piece with a delicate and sustained melody. Jing's top notes are delightfully clear and perfectly in tune and in Der Nussbaum her finely-controlled voice with its gorgeous tone quality seemed to float effortlessly above Morakot's beautifully phrased and sympathetic piano accompaniment. For me, this was undoubtedly one of the highlights of the evening.
Richard Strauss is known especially for his operas and orchestral tone poems. He was also a fine song-writer and the concert included several examples beginning with Morgen! which dates from 1894. Performed by Rain with commendable German diction, his sotto voce tone was finely controlled and expressive. Once again, pianist Morakot demonstrated his remarkable ability to switch effortlessly from one musical style to another. Jing gave a compelling reading of Allerseelen, the last in a collection of eight songs written in 1885. She brought a great sense of drama and contrast to the song and the last phrase was especially lovely. There were some charming moments in her performance of Die Nacht.
Jing gave her first performance in Pattaya last year at the Thailand Philharmonic Orchestra's concert at Phornprapha Botanic Gardens. She has won prizes at the RSU vocal competition at Rangsit University and at the Princess Maha Chakri Sirindhorn French Song Competition. She starred in both "Ghost Opera the Musical" at Mahidol University and played the principal character in Mozart's "Cosi Fan Tutte".
The recital at Ben's gave Jing the opportunity to shine. Her singing of Bellini's Vaga Luna was touchingly beautiful and to my mind at least, as near perfect as you can get. With sensitive piano playing it was another of the evening's highlights. There was a lovely performance of Debussy's 1880 song, Nuit d'étoiles with its soaring melody and rich harmonies. Her singing of Deh Vieni, non tardar from Mozart's "Le Nozze di Figaro" had excellent characterization, clear high notes and a finely articulated piano accompaniment from Morakot. He's a fine concert pianist in his own right and has won prizes in the Yamaha Thailand Music Festival and in the Bangkok Chopin Piano Competition. He has recently completed his Bachelor Degree in Composition from Mahidol University.
In complete contrast to the Mozart, Rain sang another Richard Strauss aria Lieben, Hassen, Zagen from his 1912 opera "Ariadne auf Naxos". He gave a powerful, declamatory and compelling performance. As an encore, he also sang the much-loved song by Poulenc, Les Chemins de l'Amour which dates from 1940 though seems to evoke the Paris of twenty years earlier. Rain gave a telling performance, with a fine sense of phrasing and timing. It was yet another highlight of the concert which culminated in an encore duet, Lippen Schweigen from Franz Lehár's opera "The Merry Widow", bringing the evening to a joyous conclusion.
Originally published in the Pattaya Mail. Copyright Pattaya Mail Publishing Co Ltd
---
Review of concert at Ben's Theater 20th November 2016
Sparkling Playing at Ben's Theatre
by Colin Kaye
It was virtually a packed house at Ben's Theater in Jomtien recently for what turned out to be one of the most successful concerts ever held there. It featured four of the top musicians from the Thailand Philharmonic Orchestra, considered by many to be the finest orchestra in the Kingdom. The Salaya Ensemble consists of oboist Cooper Wright (Solo Principal Oboe), violinist Inga Causa (Acting Concertmaster), Dr Danny Keasler (Principal Viola) and Marcin Szawelski (Co-Principal Cello). With talent like this there was enormous anticipation and excitement among the concert-goers gathered in Jomtien. They were not disappointed.
The programme items were performed in chronological order ranging from a work composed in the mid-1770s to a piece written in 2016 – last month to be precise. The concert opened with a performance of Johann Christian Bach's elegant and graceful Quartet in B flat major. John Christian was one of the sons of Johann Sebastian and often known as "The London Bach" because he lived there for many years. The Salaya Quartet impressed with their sheer quality of sound, beautiful singing oboe tone and a rich sonorous sound from the strings. Oboist Cooper Wright brought a sense of joy to the first movement with its wealth of melody and cleverly written answering phrases between the instruments. The second movement, an elegant rondo was especially rewarding and included an attractive solo passage for viola, beautifully played by Danny Keasler.
Mozart's Oboe Quartet K.370 dates from1781 and it's the most well-known oboe quartet in the repertoire. It contains many of Mozart's favourite musical trade-marks: twists of harmony, wide melodic leaps, unexpected accents, skillfully written counterpoint and elements of surprise. Cooper's oboe playing was superb throughout, despite the technical challenges of the piece and there was some fine string playing. The sense of ensemble was excellent, the four players blending their sounds together perfectly. I suspect that many non-musicians don't realise how much personal practising and group rehearsal goes into the making of a concert performance. It became clear that these four fine musicians had spent a considerable time doing just that. The gently lilting slow movement of Mozart's quartet was beautifully played and the sprightly third movement was brilliant with its virtuosic oboe part. Several times Mozart writes a top F for the oboe - the highest note available on the instrument in the eighteenth century. Even today, oboists consider the top F a bit tricky. Cooper played these high notes with superb tone and control. The balance between the instruments was perfect and the inner parts clearly audible. The acoustic at Ben's Theater is ideal for music of this sort: the room is large enough for a decent-sized audience yet small enough to preserve the intimate nature of chamber music.
Ludwig van Beethoven composed his Serenade for String Trio in D major between 1796 and 1797. During the late eighteenth century, composers wrote serenades and divertimenti to satisfy the needs of the courts at which background music was necessary for social events. Little is known of the origins of this work but by the usual standards of the serenade, this one is quite complex, even puzzling at times. The string players performed the third movement of the Serenade which gave them the opportunity to shine. I was impressed by the beautiful string tone, the fine articulation in the faster sections and the delicate expressive playing. The movement alternates between a wistful, passionate melody tellingly played by Inga (violin) and Danny (viola) with a carefully phrased cello accompaniment from Marcin. The changes of tempo and mood between this and the scherzo-like faster passages were perfectly handled by the musicians and the sense of ensemble was compelling.
Benjamin Britten was sixteen when he wrote his Phantasy Quartet for Oboe and String Trio in 1932. It's a challenging work for the performers and possibly for the listeners too, if they're not familiar with Britten's harmonic style. The work has echoes of Stravinsky and makes considerable use of pizzicato strings with strident, vibrant harmonies. The difficult oboe part was handled to perfection by Cooper and there was a wonderful sense of timing and precision with some fine string playing especially in the opening and closing sections.
After a rapturous response from the audience, the quartet played their encore piece, composed only a few weeks ago especially for the occasion by local composer Colin Kirkpatrick. The musicians played the short and lively work superbly and at the end even received some cheers from the audience. Unusually, after the applause had faded away, everyone remained in their seats. It really looked as though no one wanted to go home.
Originally published in the Pattaya Mail. Copyright Pattaya Mail Publishing Co Ltd
---
RENOVATION CONCERT AT BEN'S ON 28 AUGUST 2016
Review Pattaya Mail August 2016
Cat on a Hot Thin Roof
by Colin Kaye
In a way, we have to thank Ben's cat for this concert which was given recently by five members of Grand Opera Thailand to celebrate the theater's reopening after major renovation work. At the Christmas concert last December there was a moment of unexpected drama when, during a performance by soprano Pimluk Vessawasdi, part of the ceiling came down near the right hand side of the stage. Fortunately no one was directly underneath at the time, but the collapse was caused by Ben's cat who was taking an evening stroll on the roof. Although the cat (Blacky, since you asked) is not particularly heavy, no one realised that hordes of termites had been at work with the result that the plasterboard had been literally eaten away. Many of the rotten beams and the plasterwork had to be replaced.
It took seven days to complete the repair work and the theater now looks as good as new. The audience seemed pleased to be back in the familiar surroundings and the members of Grand Opera Thailand provided a fine, well-paced concert. After an amusing welcome address from Ben himself, the concert opened with Verdi's Libiamo ne' lieti calici sung enthusiastically by Pimluk Vessawasdi (Mai) and tenor Kittiphong Klabprathum (Ohm). Then counter-tenor Potpreecha Cholvijarn (Jak) sang the demanding Bach aria Vergnügte Ruh, beliebte Seelenlust with typically clear tone and perfect intonation. Ohm provided a compelling performance of the lovely Dowland song Come again, sweet love doth now invite after which baritone Stefan Sanchez, Director of Grand Opera Thailand sang Mañanita de San Juan. It's a charming song by the Spanish Catalan composer Eduard Toldrà who incidentally, founded the Barcelona Symphony Orchestra in 1944. Then it was Mai's turn to sing Chanson d'amour, a delightful song by Gabriel Fauré. Mai has tremendous stage presence and seems to have a natural ability to connect with the audience. This was evident in her performance of Mozart's Vedrai, carino from "Don Giovanni".
Perhaps one of the highlights of the evening was Stefan's first-class presentation of three British folksongs arranged by Benjamin Britten. They included The Sally Gardens, O Waly, Waly and the evergreen song The Foggy, Foggy Dew to which Stefan brought insightful characterization. Pianist Morakot Cherdchoo-ngarm provided splendid accompaniments. He has a thoroughly professional and unobtrusive approach and has the ability to handle contrasting musical styles with equal skill and musicianship. Later, Stefan performed the surprisingly jolly song Fußreise by Hugo Wolf. The title roughly translates as "Going a-Walking" which of course is what Blacky was doing when he fell through the roof. Later in the programme Stefan brought power and drama to Mozart's Hai gia vinta la causa...Vedro mentr'io sospiro from "The Marriage of Figaro".
Ohm gave a gentle and charming reading of Schubert's song Ganymed, a setting of a poem by Goethe and drawn from ancient Greek mythology. Then in contrast he sang Turina's Farruca with its declamatory opening chords and Spanish rhythms. Jak sang Ridente la calma by Mozart with good phrasing and lovely tone quality but the audience was particularly enthusiastic about Venga pur, minacci, e frema from Mozart's little-known opera "Mitridate, re di Ponto". It is a technically challenging aria written when the fourteen-year-old composer was on tour in Italy.
The concert concluded with a couple of songs by Andrew Lloyd-Webber in which Mai sang Think of me which she began with a lovely sotto voce tone quality. Ohm and Mai confidently sang All I ask of you from "The Phantom of the Opera" and the concerts finished with the encore number, the rousing Italian song Funiculì, Funiculà.
Oh yes, the cat. Thank you for reminding me. Despite falling through the roof, the cat escaped completely unscathed and now basks in his newly-acquired celebrity status.
Originally published in the Pattaya Mail. Copyright Pattaya Mail Publishing Co Ltd
---
Review in Pattaya Mail "LAST ACT OF THE SEASON
Top Singing Talents from Bangkok
on 24th April 2016 at Ben's Theater Jomtien
by Colin Kaye
It's not often that the music of England's Henry Purcell rings out in Jomtien, but it did last weekend at Ben's Theater when the two sopranos Kamonporn Huncharoen and Sasinee Aswajesdakul opened their concert with Purcell's stirring duet Sound the Trumpet. Written in 1694, it comes from a musical ode written for the birthday of Queen Mary II. Originally scored for two counter-tenors, the voices imitate the sound of trumpets and the song calls for careful vocal control on the long notes and a great deal of agility in the middle section. The singers gave a splendid performance with excellent articulation and rich soprano tone.
Both singers are from the College of Music at Mahidol University. They were both born in Bangkok and both started singing at the age of ten. Kamonporn won the first prize in "Celebrating His Majesty Singing Contest" in 2005, and in the following year she won the second prize from the "Musical Compositions of H.M. King Bhumibol Adulyadaj Singing Contest". She is now continuing with her Master's Degree in vocal studies and working as part-time vocal instructor at Mahidol. Sasinee Aswajesdakul entered the Mahidol's College of Music at the age of thirteen in the Pre-College Program and is currently a fourth year undergraduate student majoring in Classical Vocal Performance. Since May 2010, Sasinee has received full scholarships with the highest score from the College of Music at Mahidol University.
Sound the Trumpet was one of four duets and in many ways they were the musical highlights of the evening. The well-known Barcarolle from The Tales of Hoffman by Jacques Offenbach was one of their most compelling performances, sung with a fine sense of ensemble. It went down well with the audience too. The duet Sull'aria...che soave zeffiretto from Mozart's opera The Marriage of Figaro again showed Kamonporn and Sasinee in excellent form with assured ensemble, phrasing, confident audience contact and excellent characterization of the opera roles. They also gave a moving and thoughtful performance of Pie Jesu by Andrew Lloyd Webber, one of the movements from his Requiem Mass first performed in 1985.
Kamonporn's first solo song in the programme was the waltz-like Mattinata written in 1904 by the Italian composer Ruggero Leoncavallo, the first song specially written for the Gramophone Company, later known as HMV. She sang the song with beautiful tone quality and displayed her confident stage presence. She later gave a dramatic performance of Franz Schubert's narrative and technically challenging song Erlkönig. This is a difficult work but she was brilliantly supported by pianist Morakot Cherdchoo-ngarn who is a fine solo pianist in his own right. The piano accompaniment requires enormous dexterity to play the repeated triplets in the right hand while the left hand has to cope with a repeated theme in octaves. Throughout the concert he proved a remarkably reliable and thoughtful accompanist who seems to be getting better and better.
Kamonporn's performance of Mozart's song Das Lied der Trennung, was lovely, quietly controlled and thoughtful. Her voice seems at its best in the quieter sections and she captivated the audience with her singing of Je dis que rien ne m'épouvante from Bizet's Carmen. It was a melancholy reflective performance and one of her best contributions to the evening.
Sasinee's first solo song was the intensely moving Widmung by Robert Schumann, always a favourite with audiences and singers alike, from a set of twenty-six songs composed in 1840. It was given a beautifully controlled performance by Sasinee and the quieter sections were especially telling, showing her splendid soprano voice and her excellent intonation at their best. In contrast, she provided a spirited and competent performance of Sullivan's Where the Bee Sucks, from the incidental music to Shakespeare's The Tempest. It was followed by her captivating performance of the well-known waltz, Il Bacio with finely articulated playing from Morakot. Perhaps her best performances of the evening were of Puccini's Quando m'en vo and Mein Herr Marquis, the famous waltz from Die Fledermaus, both sung with great confidence and verve. Sasinee has a remarkable voice for one so young, rich in tone quality with fine intonation. Both Kamonporn and Sasinee performed with tremendous confidence and with plenty of audience eye-contact, which is so essential because it makes the concert that much more rewarding for the listeners.
Originally published in the Pattaya Mail. Copyright Pattaya Mail Publishing Co Ltd
---
FLTR: POTPRECHA (JAK) CHOLVIJARN, MANASANUN (ANGEL) AKSORNTEANG, BEN HANSEN
(FOUNDER BEN'S tHEATER) AND PIANIST MORAKOT CHERDCHOO-NGARM
REVIEW PATTAYA MAIL 26 fEBRUARY 2016
A Valentine's Night at Ben's
by Colin Kaye
A full house of lively concert-goers gathered at Ben's recently to hear an evening of romantic songs and arias performed by mezzo-soprano Manasanun Aksornteang and countertenor Jak (Potprecha) Cholvijarn with Morakot Cherdchoo-ngarm at the piano. The programme opened with Jak's fine performance of Mozart's aria Cara, lontana ancora from the little-known opera "Ascanio in Alba". It's a pastoral nymphs-and-shepherds romp by the fifteen-year-old Mozart, written to celebrate the wedding of Empress Maria Theresa's son. Jak gave an impressive performance of the technically demanding aria and his purity of tone and control of dynamics was noticeable from the start. Even so, he seemed more at home in Monteverdi's reflective aria Oblivion soave from the composer's majestic opera "L'incoronazione di Poppea". It was a lovely performance and Jak's controlled sotto voce singing of the opening recitative was compelling.
He later sang Handel's aria Domerò la tua fierezza which is the type of thing that Jak does so well, marked by clear articulation and excellent control of the tricky melodic leaps. Jak, who has recently completed his Ph D studies was educated in England and sang in Bristol Cathedral Choir as a choral scholar. In Thailand, he has performed as soloist in operas by Thai composer Somtow Sucharitkul and given many concerts with Grand Opera (Thailand).
Manasanun Aksornteang (Angel) opened her programme with a lovely performance of Als Luise die Briefe, one of the comparatively few songs (as distinct from opera arias) by Mozart. Angel has good stage presence and a fine singing voice with remarkably focussed tone quality and splendidly clear articulation. But it was her assured and moving performance of Debussy's Nuit d'étoile ("Starry Night") that showed Angel at her best, with spot-on intonation and excellent vocal control. This was one of the many highlights of the evening and was followed by a lovely reading of the introspective Von ewiger Liebe ("Eternal Love") by Johannes Brahms, an impressive performance which displayed Angel's fine vocal skills. She began singing lessons at the age of thirteen and during her studies has performed at numerous concerts, recitals and operas. She was a prize winner at the Barry Alexander International Vocal Competition and is currently a part-time voice teacher at the College of Music, Mahidol University.
But perhaps the highlights in the first part of the programme were the duets. Jak and Angel gave a lovely performance of Purcell's timeless classic My dearest, my fairest in which their voices blended perfectly in the rich harmonies and expressive dissonances. They also gave a superb reading of the duet To thee thou glorious son of worth from Handel's 1750 oratorio "Theodora", in which both singers produced pure and focused tone quality with finely controlled dynamics and clear phrasing.
As usual, Jak and Angel were accompanied by the highly competent Morakot Cherdchoo-ngarm who started piano lessons at the age of six and went on to win several prestigious prizes for piano performance in both Thailand and Malaysia. Morakot is also an experienced composer and has had much experience in music theatre. In 2010 he received the Young Thai Artists Award and four years later he composed the music for Sita Dreams which combined the two epic stories of the Ramayana and Wagner's The Ring.
Angel opened the second part of the concert with two of the best-known songs by Richard Strauss written in 1885 when the composer was twenty-one. She gave a confident performence of Zueignung and her singing of the charming, nostalgic song Allerseelen was a delight with beautifully sensitive accompaniments from Morakot. In the Saint-Saëns aria Mon cœur s'ouvre à ta voix Angel displayed her lyrical tone quality and superb dynamic range.
Jak Cholvijarn excelled himself in the first performance of Kyoto Dreams, a set of songs written for him by local composer Colin Kirkpatrick. The songs are based on English translations of medieval Japanese poems and although the music is challenging, Jak gave a splendid and compelling reading of the work. His intonation was secure and as always, his tone quality clear and focused. The piano parts makes technical demands too but Morakot gave a confident, rhythmical and throughly musical performance.
The Purcell aria Strike the viol was sung by Jak with his usual quality of tone, vocal control and sense of musicianship. Angel's performance of Schumann's passionate Widmung ("Devotion") drew much admiration from the audience and was yet another highlight of the evening. The encore duet, Belle Nuit from Offenbach's "The Tales of Hoffmann" is probably the most famous barcarolle ever composed. It was a huge success with the audience at Ben's too and it made a satisfying conclusion to the concert by these fine young musicians.
(This article first appeared in the Pattaya Mail newspaper on 26th February 2016. © Pattaya Mail Publishing 2016)
---
Review Pattaya Mail 22 January 2016
AN OPERATIC NEW YEAR CELEBRATION AT BEN'S
A Humming Chorus at Ben's
by Colin Kaye
For a moment, I thought it was my imagination, but it wasn't. During Franz Lehar's song Meine Lippen sie küssen so heiß several members of the audience, especially those of a Germanic disposition, were audibly humming along with the tune. It was like being in the waiting scene from Madama Butterfly. But soprano soloist Nattida Gumchai was unfazed and actually seemed to enjoy the unexpected chorus. Not surprising really, because despite her youth, Nattida is an experienced and accomplished singer. Born in 1989, she started singing lessons at the age of thirteen and by seventeen was singing on original soundtracks of various Thai television series and also performed in television commercials. She has a first-class honours degree and is currently studying on a Master Degree at the College of Music, Mahidol University.
Nattida was joined by bass-baritone Pichaya Kemasingki who had stepped in at short notice. He's also a member of Grand Opera Thailand, the successful opera production group directed by Stefan Sanchez. Pichaya is a talented singer-actor who has already completed his B. Mus. in Vocal Performance at the College of Music, Mahidol University and who has performed major roles in many operas. The opening numbers were confident and sparkling. Nattida began with Una donna quindici anni from Mozart's "Cosi van Tutte" and gave a lively account of the aria with exceptional stage presence and audience contact. Pichaya opened his selection with Non piu andrai, one of the most well-known arias from Mozart's "Marriage of Figaro" in which his intonation was spot-on and his diction impressively clear.
One of the highlights during the first half of the concert was Nattida's beautifully poised performance of two Schumann songs, Widmung and Du bist wie eine Blume, the first of which was later converted into a heroic piano piece by Franz Liszt. Nattida gave a thoughtful and telling performance of the songs with perfectly clear diction. The audience gave a warm reception to her excellent singing of Mein Herr Marquis from the Strauss opera "Die Fledermaus" which she played with tremendous panache and delightful acting. Pichaya gave a convincing performance of Verdi's Come dal ciel precipita which demonstrated his clear low register and ability to bring off the heroic closing section. He also gave a telling and powerful performance of Vecchia zimarra from Puccini's "La Bohème".
The second half of the concert began with Nattida's fine performance of two songs by Brahms and Grieg in which her finely-focused tone quality conveyed the reflective mood of the songs. Most of the second half was devoted to lighter fare, with music from the musicals and some lovely duets. I was especially impressed by Nattida and Pichaya singing Sun and Moon from "Miss Saigon" in which their voices blended beautifully. Another highlight was All I ask of you from "The Phantom of the Opera" by Andrew Lloyd Webber in which the singers worked splendidly together and Pichaya impressed with his remarkably focused soft tone. His performance of Stars from "Les Misérables" was much appreciated by the audience.
Nattida also gave a moving performance of Don't cry for me Argentina which showed her lovely clear tone quality and precise diction. She was encouraged by sensitive piano playing from Morakot Cherdchoo-ngarn who incidentally is a brilliant solo pianist in his own right. He has won prizes in the Yamaha Thailand Music Festival Competition, the Eighth Bangkok Chopin Piano Competition and the Third Persatuan International Chopin Piano Competition in Malaysia. He also holds a Bachelor Degree in Composition from Mahidol University. Throughout the concert he proved a remarkably reliable and thoughtful accompanist on the fine Yamaha digital piano. The audience delighted in Pichaya's entertaining performance of Copland's I Bought me a Cat and the evening concluded with three encores bringing the concert to a satisfying conclusion. Several members of the audience felt it was the best concert yet in the current season. I think I'd agree and on reflection, I rather enjoyed the humming chorus.
Originally published in the Pattaya Mail. Copyright Pattaya Mail Publishing Co Ltd
---
Review Pattaya Mail 25 December 2015
Keys and Strings at Ben's Saturday 12th December 2015
by Colin Kaye
An appreciative audience recently enjoyed an evening of violin favourites at Ben's Theater in Jomtien. The programme featured violinist Jonathon Glonek who made his first international tour at the age of twelve and has since developed as a gifted violinist and performing artist. He won a scholarship to the University of California where he studied with Alexander Treger and later studied with the legendary Hungarian virtuoso Tibor Varga. Jonathon was recently featured as soloist in the Brahms Violin Concerto with the Ukrainian National Festival Symphony Orchestra in Kiev.
From the beginning of the concert it was obvious that he is a fine violinist with a brilliant mastery of the instrument. The programme began with a performance of two of the Slavonic Dances by Dvořák which are among the composer's most well-known works. Originally written for piano, they're best known in the composer's own colourful orchestral arrangements. Jonathon then gave a beautiful performance of Dvořák's well-known Humoresque No 7 which the composer wrote during a summer holiday. Jonathon's rich and sonorous tone quality came to the fore in his delightful performance of another Dvořák favourite, Songs My Mother Taught Me. This must be the composer's most well-known piece and Jonathon played the arrangement made in 1914 by the violinist and composer Fritz Kreisler. I was impressed by Jonathon's fluid vibrato and his sparing but effective use of portamento, perhaps an influence of the Hungarian school of violin playing.
Jonathon then performed two well-known works by Edward Elgar, first the Salut d'Amour, a delightfully old-fashioned salon piece which was the composer's best-selling work. It was followed by the less well-known but technically challenging La Capricieuse. The work dates from 1891 when the composer was thirty-four but it requires complicated bowing and other advanced techniques. Not surprisingly, Jonathon seemed to be in his element in this difficult piece and gave an impressive and thoroughly musical performance. The piece was a showcase for his superb bowing skills.
The final work in the first half of the programme was Fritz Kreisler's delightful Caprice Viennois. Kreisler is regarded as one of the greatest violinists of all time and this piece contains echoes of gypsy music as well as a nostalgic slow waltz. This work also served to display Jonathon's flawless technique. Throughout the concert he was accompanied by Usa Napawan on a Yamaha digital piano which produces an excellent and authentic tone quality. Perhaps we should have heard a bit more of it. The best piano accompanists are always concerned about playing too loudly, but I felt that Usa was sometimes a bit too restrained. Even so, she is clearly a competent and sympathetic accompanist and plays with a great sense of musicality. She obtained her Master's Degree in Piano Performance from the College of Music, Mahidol University. She has performed with acclaimed singers and instrumentalists in Thailand and is currently teaching at the New International School of Thailand and Shrewsbury International School Bangkok.
The second half of the concert contained two major works, both by the nineteenth-century Polish violinist and composer Henryk Wieniawski. First was his Violin Concerto No 2, one of the great violin concertos of the Romantic era. The work has some memorable melodies but has a demanding variety of challenging techniques and the brilliant finale contains reminders of joyful gypsy-style music. Jonathon produces a lovely rich tone especially in the low register and the slow movement was magical. He really brought out the gypsy character of the last movement too. The concert concluded with Wieniawski's Polonaise Brillante, first performed by the composer in 1870. It provided a thrilling conclusion to a satisfying concert.
Originally published in the Pattaya Mail. Copyright Pattaya Mail Publishing Co Ltd
---
REVIEW Pattaya Mail Friday 4th December 2015
Originally published in the Pattaya Mail. Copyright Pattaya Mail Publishing Co Ltd
Outstanding young Thai musicians in Jomtien
by Colin Kaye
It's not often that you hear songs by Ralph Vaughan Williams, Francis Poulenc and Richard Strauss performed one after the other less than a mile from Jomtien Beach. That is, unless you happened to be at Ben's Theater recently, at a splendid concert given by talented young Thai musicians. It featured lyric soprano Pimluk Vessawasdi and baritone Ittinat Seeboonruang who are members of Grand Opera Thailand, a successful opera company founded in 2012 by Stefan Sanchez. They were accompanied by their regular pianist Morakot Cherdchoo-ngarn and they sang a selection of classical songs not only in English but also in Italian, German and French - in itself quite an achievement.
Pimluk opened the programme with a telling performance of V'adoro Pupille, an aria from Handel's 1724 opera Giulio Cesare. From the start she demonstrated her powerful voice with its rich tone colour. She has a fine stage presence too and clearly enjoys performing, despite the fact that some of the songs were quite difficult. Pimluk holds a bachelor degree in communication technology and is currently studying for a master's degree in singing. Already, she's won many prizes for vocal performance and has appeared on the sound tracks of several Thai films. All this wealth of experience was evident in her performances, notably in the aria Poor Wandering One from Gilbert & Sullivan's opera The Pirates of Penzance. The audience clearly enjoyed her singing of the Puccini aria Quando m'en vo from La Boheme in which she showed her remarkable dynamic range and her skill in bringing the operatic characters to life. Perhaps one of the highlights of Pimluk's programme was another Puccini aria from Tosca, Vissi d'arte a lovely song which she sang in a beautifully controlled style. Another highlight was her performance of the delightful song by Poulenc, Les chemins de l'amour dedicated by the composer to the Parisian night-club singer and international star, Yvonne Printemps.
Ittinat began his selection with the aria Avant de quitter ces lieux from Gounod's opera Faust and although he gave a commendable account of the piece he seemed much more at home in Wagner's aria O du, mein holder Abendstern from the opera Tannhäuser. Perhaps the language helped, because Ittinat has a Bachelor of Arts in German. His diction was clear, and his voice well-controlled. Incidentally, for a time he studied with the acclaimed British bass-baritone, John Shirley-Quirk. Ittinat also gave an excellent performance of Mozart's Abendempfindung which is a lovely song though technically quite challenging. His intonation and phrasing were spot-on. He seemed at his best in a couple of French songs which for me at least, were one of the highlights of the evening. He gave a splendid performance of Duparc's Chanson Triste and the lovely En Sourdine by Gabriel Fauré. He really seemed to bring out the essence of these two delicate songs with beautifully controlled vibrato and pleasing vocal tone quality. His performance of the Vaughan Williams song Silent Noon was equally impressive as was his compelling reading of Rachmaninov's In the Silence of the Secret Night written when the composer was just seventeen.
Then there were the duets, which were especially well received by the audience. Mozart's tongue-twisting Papageno – Papagena Duet was a great success, as was the singers' encore number, the famous Lippen Schweigen duet from Lehár's The Merry Widow. Throughout the concert I was impressed with the piano accompanist Morakot Cherdchoo-ngarn who is a prize-winning pianist in his own right. His playing was accurate, thoughtful and always with a compelling sense of style, reflecting perhaps his wide musical experience. He's a fine young musician who has recently completed his Bachelor Degree in Composition. Interestingly he read most of the music not from sheets of printed paper, but from the screen of a small computer. A sign of the times, I suppose.
FLTR: Baritone Ittinat Seeboonruang, Lyric soprano Pimluk Vessawasdi en pianist Morakot Cherdchoo-ngarn at Ben's (20 November 2015)
---
REVIEW OF OUR LAST CONCERT "FINAL ACT OF THE SEASON"
Thai Talent at Ben's
by Colin Kaye
It was a packed house at the final concert of the season at Ben's in Jomtien last week. Billed as "a vocal bombardment," the programme featured three talented Thai singers from Bangkok. Counter-tenor Potprecha Cholvijarn (Jak) opened the programme with a lovely aria from Mozart's opera Mitridate written at the age of fourteen. Jak studied at Bristol University and sang in prestigious choirs in the UK. He has performed with Bangkok Opera, the Siam Philharmonic and the Siam Sinfonietta and composer Somtow Sucharitkul cast him in three of his operas. Jak gave a telling performance of Handel's Dolc' é pur d'amor l'affanno but really came into his own with songs by Caccini and Dowland. He has a clear focused tone, and seemed to be in his element with a moving performance of Dowland's melancholy Flow my tears.
Soprano Nattida Gumchai (Pang) started singing at age of thirteen and in 2011 began her Master Degree studies in Vocal Performance at Mahidol University's College of Music where she's now a voice teacher. She has performed with Bangkok Symphony Orchestra and Thailand Philharmonic Orchestra and she was a finalist in the Osaka International Music Competition. She gave a lively performance of Les Filles de Cadix by Delibes, which showed her powerful, focused voice, her excellent intonation and her charming stage presence. She later sang two songs by Hugo Wolf, and performed a song from Die Fledermaus enchanting the audience with her confidence and immaculate sense of timing. Pang also gave an expressive performance of Je dis que rien ne m'épouvante from "Carmen" which demonstrated her superb vocal technique.
Baritone Saran Senavinin (Rain) began his professional career in 2010. He performed in Somtow Sucharitkul's opera, Mae Naak as the Bloomsbury Theatre in London and has appeared in many productions at Silpakorn University. Rain performed three songs by the Italian composer Stefano Donaudy and impressed with his confident stage presence and powerful voice. He also sang three songs by Samuel Barber performing them with confidence and a sense of drama, clear diction and accurate intonation.
The keyboard accompaniments were provided by Piet van den Broek, a regular performer at Ben's and Morakot Cherdchoo-ngarm, who started piano lessons at the age of six. In recent years, he has won prizes at the Bangkok Chopin Piano Competition and at the International Chopin Piano Competition in Malaysia. He's also an accomplished composer with a Bachelor Degree in composition. He accompanied the singers sensitively with rhythmic, well-phrased playing and he's clearly a fine musician.
Perhaps the musical highlights of the concert were the vocal duets. Jak and Pang gave an exhilarating performance of two Purcell songs including the well-known Sound the Trumpet. Pang was joined by Rain for the exhilarating Lippen Schweigen from Franz Lehár's "The Merry Widow". They gave a wonderfully compelling performance which really brought the house down. Rain and Pang concluded the concert with Donizetti's Pronta i'o son from "Don Pasquale". It was a really splendid tour de force that captivated and delighted the enthusiastic audience.
Originally published in the Pattaya Mail. Copyright Pattaya Mail Publishing Co Ltd
---
Review in Pattaya Mail 27 February 2015
Originally published in the Pattaya Mail. Copyright Pattaya Mail Publishing Co Ltd
"Thank God it's Friday at Ben's Guitar & Voice" Friday 6th February 2015
International Flavour at Ben's
by Colin Kaye
A Czech guitarist, a Russian soprano, a Dutch pianist and music from many countries recently delighted a full-house at Ben's Theater in Jomtien. The first half of the concert featured the Czech guitarist Leon Koudelak who has performed in Cuba, South America, Asia and in over fifteen European countries. He records for Tyrolis Classics and has released five CDs of solo guitar music. Leon lives in Pattaya and teaches at universities in Bangkok.
The concert was also attended by Dr. Vítězslav Grepl, the Ambassador of the Czech Republic. He gave the presentations and with his wife, stayed long after the concert to chat with musicians and guests.
Leon Koudelak performed an interesting selection of music, beginning with the Cadenza from the Guitar Concerto by Villa-Lobos. The work was written in 1951 and dedicated to Andres Segovia. With an improvisatory nature and rich harmonies, it was beautifully performed and revealed Leon's flawless technique. It was followed by two preludes for guitar, also by Villa-Lobos. The performance had a wonderful sense of rhythm and flowing rubato. Leon then gave a splendid performance of the Five Preludes by the 19th century Spanish composer Tarrega, who incidentally, wrote one of the best-known tunes in the world; the Nokia ringtone, "borrowed" from his Gran Vals.
Leon continued with works by Mozzani, and the renowned Spanish composer Granados who wrote a set of Valses Poéticos for solo piano, transcribed for guitar by Leon himself. The music is almost classical in style with elegant melodies and the superb performance demonstrated Leon's dazzling technical skill and impressive musical artistry.
The second half of the concert featured the talented Russian soprano Larisa Ezhelenko, who studied piano and voice at the Novosibirsk Academy of Music. Larisa has given many concerts around Novosibirsk and has sung at the Novosibirsk Philharmonic Hall and in the Tchaikovsky Philharmonic Hall in Moscow. She has already given several highly-acclaimed concerts in Pattaya.
Larisa's recital included a wide range of songs, superbly accompanied by the Dutch pianist Piet van den Broek. Dowland's Come again! Sweet love doth now invite opened the recital and Larisa perfectly conveyed the melancholy mood of the song. Her performance of arias by Pergolesi and Vivaldi impressed me with her finely focused voice and controlled tone quality. But perhaps the French songs were the highlights of the recital and the exquisite Chanson d'Amour by Fauré was given a telling and sensitive performance. Poulenc's voluptuous song Les chemins de l'amour dates from 1940 and Larisa sang it with confidence and style, with an assured piano accompaniment from Piet van den Broek.
Larisa gave lively performances of arias by Mozart and Delibes but the audience seemed particularly impressed with a gentle love song by Marcus Tristan who wrote it especially for Larisa. The recital culminated in the vocal waltz Il Bacio ("The Kiss") by the Italian conductor and composer Luigi Arditi, a song that everyone seems to know but nobody can actually name. Her encore, Schubert's Ave Maria was beautifully sung and made a moving conclusion to a delightful evening.
A big surprise for Czech guitarist Leon Koudelak (middle) as he learned that Czech ambassador Grepl (r) attended his first concert.
---
BEN at his 77th Birthday Party with renowned German Swiss violinist Mathias Goebner.
---
---
FLTR: Pimluk Vssawasdi, soprano, pianist Morakot Cherdchoo-ngarn and soprano Nattida Gumchai from Grand Opera (Thailand)
---
Grand Opera (Thailand)
FLTR: Baritone Saran Senavinin, baritone Stefan Sanchez, soprano Sineenuch Pittayajumrus, tenor Kittiphon Klabprathum
and the late professor Laurence Davis, pianist. (November 2013)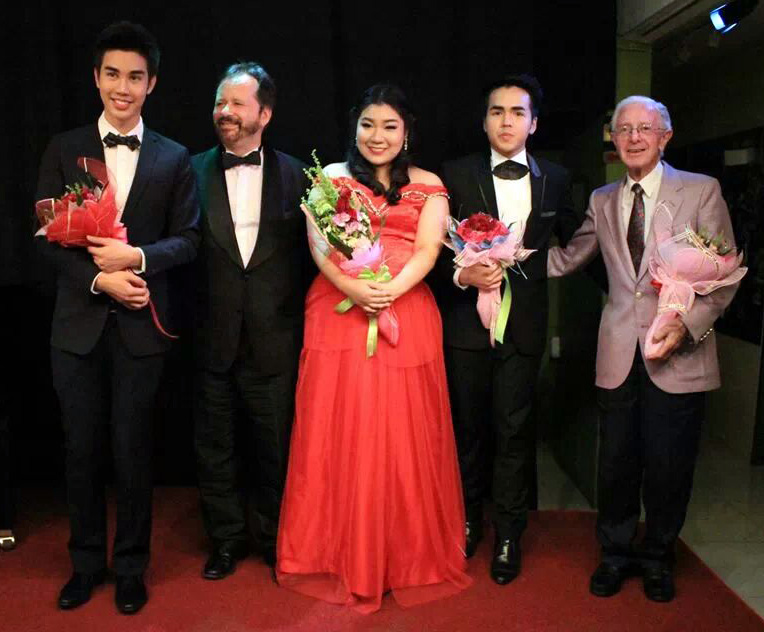 ---
Grand Opera (Thailand)
FLTR: Laurence Davis (piano), soprano Sineenuch Pittayajumrus and baritone Saran Senavinin ( November 2013)
---
Tenor Brendan Keefe-Au from Singapore with pianist Laurence Davis (2014)
---
Baritone Saran Senavinin, pianist Laurence Davis and violinist Ohm Teyoon (2011)
Thank God it was Friday at last Friday November 18, 2011, the day of the concert at Ben's! At 7 PM I biked my way to his place, behind the Golden Hanuman in Jomtien. Ben was sold out and all the lovers of classical music looked forward to the soloists and the music, enjoying their drinks.
The program started with the first movement (Allegro) of the Spring Sonata by Beethoven, played by Ohm Chan Teyoon from Payap University on the violin and Laurence Davis at the piano. The violist sounded a bit nervous and uncertain in the beginning, but playing on this joyful piece he raised to the occasion and brought us the feeling of spring as Beethoven must have had in mind. In the following pieces, the first part of Sonatina opus 27 by Fibich, the Lullaby by Kocian and the Berceuse by Faure, he gave us the full pleasure of his performance. The last piece before the intermission was the Allegro Brillant by Willem ten Have, a real climax of performing skills and musicality, played with the same bravura as the name of the piece asks for. Laurence Davis was his very skillful and experienced partner in music, as we expected him to be.
After the intermission, we welcomed the young baritone Saran Senavinin, a student at Silpakorn University in Bangkok, with again Laurence Davis at the piano. Saran started his program with one of the most wonderful songs of Schubert, Ganymed, and after that Gruppe aus dem Tartarus by the same composer. Maybe Saran had some problem with the sharp diction and pronunciation of the German language because in the Schubert songs he was not always exactly in tune. But when he went on with two songs of Faure (Chanson d'amour and Apres un reve) and four songs of Vaughn Williams (Songs of Travel) he had no such problem and performed very convincing. He gave us also two opera aria's by Mozart (Non piu andrai and Aprite un po' quegl' occhi from The marriage of Figaro), in the Italian language of course, with the gestures and facial expressions that made it real opera for the audience! Again Laurence Davis was the master at the piano.
Big applause and encore from the audience! And we got our reward: a solo by Laurence (at last!) who played a brilliant piece by Gerswhin, a stunning virtuoso phantasy on The man I love, Swannee and I got rhythm. Once again a big applause and then we said goodbye, grateful to the musicians and to Ben Hansen, the organizer, and host of this beautiful soiree musicale.
---
FLTR: "Follywood" a show with American puppeteer Tim Bergen with Lana and pianist Ben Hansen (2006)
---
Violinist Mathias Bögner and pianist Laurence Davis (2012 - 2014)
---
Klaas Hofstra and pianist Regina Albrink in "Chopin en zijn verlangen" (Chopin and his desire) a theatre play about the composer. Special show for Dutch expats in Pattaya. (2014)
---
Grand Opera (Thailand)
Duet from Fiddler on the roof with baritone Stefan Sanchez and soprano Sineenuch Pittayajumrus (2013) Left pianist Laurence Davis
---
Dutch cabaret "Twintig voor Twaalf" (Twenty to Twelve)
FLTR: Sieb Elzinga, Wim de Vries, Ben Hansen, Peter Kuiper.
Front: Dinie de Vries and Mia van 't Hoff. (2008-2013)
---
Dutch cabaret show "Twintig voor twaalf" (Twenty to Twelve)
FLTR: Ben Hansen, Peter Kuiper, Dinie de Vries, Mia van 't Hoff, Sieb Elzinga and Wim de Vries. (2012)
---
The Sea Breeze Choir of Pattaya in Ben's garden. Left choir leader Ben Hansen (2006-2009)
---
Photo Gallery: Photos & Reviews
The image gallery is empty.
---
---
Contact
Ben's Theater Jomtien
403/73 Moo 12 Jomtien Beach Road Soi F. Nongprue Banglamung Chon Buri Pattaya Thailand 20150

Ben's Theater Jomtien is a drop-off place for Bolt/Grab Taxi Service Simply enter Bens Theatre Jomtien in the destination box
+66899833351

benstheaterjomtien@gmail.com
---
AUDIENCE COMMENTS
"What an inspiring evening last night at the concert. It is so gratifying to see young people pursuing a passion for the arts so seriously. Their expressive faces too, are a joy to witness".
Why use overseas divas when there is such great talent available locally?
"I enjoyed the concert tremendously and the musicians were excellent of course. Each performer was a highlight. I thought the whole thing was superbly organized; effective lighting, good clear service announcements and excellent service from your pleasant staff dealing with the drinks."
"Dear Khun Ben,
I would like to thank you for giving me, my daughter and grand daughter the opportunity to enjoy "Key & Strings" at your theater last night. It was delightful to find a cultural face of Pattaya, which I had been totally unaware of, and I praise you for making me realize. Please continue your good work! Again, thank you and your staff."
What an enjoyable time I and my six guests had - indeed further enhanced by the excellent voices of the singers - their fluency in the various languages in which they performed was really amazing - they have a great future ahead of them - the Pianist was also a fantastic performer who indeed added to the overall performance. Well done .
---
COMMENTS BY THE ARTISTS
Inga Causa (violinist TPO)
Ben's place is overloaded with wonderful people and warm atmosphere. Pleasure to perform and by the way the Theatre has really good acoustics!
Mahakit Lerdcheewanan (violinist TPO)
We would love to go back to Pattaya to perform again. On the way back to Salaya, we kept talking in the minibus about how happy we were to have such a special audience that appreciated our program and our playing.
---
BEN WITH THE FIRST VOCALISTS EVER
ROGER FARMAN AND BARRY PETHIG
---
A LIFE OF OPERA
Stefan Sanchez who recently passed away peacefully but unexpectedly in Bangkok, was an opera singer, voice teacher and an opera director of international repute. His life was devoted to music of the opera and passing on his vibrant enthusiasm to others. He was a popular visitor to Pattaya and from 2011 until 2016 he presented many splendid concerts at Ben's Theater
The performers were members of Stefan's own company, Grand Opera Thailand, which he founded in 2011 to provide opportunities for talented young Thai singers to gain stage experience. The company also gave performances in Myanmar, Bangalore, Karachi and South Korea. Ben Hansen, founder of Ben's Theater Jomtien, commented that Stefan's "unwavering dedication to teaching young singers ensured the high quality of the opera company".
At the early age of fifteen Stefan was accepted the London's Guildhall School of Music and Drama and later studied singing and piano at the Royal Academy of Music from which he graduated with distinction. There, he had the unique opportunity to study with singers of international repute including Dame Janet Baker, Gérard Souzay, Teresa Berganza and Montserrat Caballé.
Stefan had a reputation as an exceptional and enthusiastic teacher who inspired many students and performers, especially in Thailand. One of his first students in Bangkok was Thai counter-tenor Jak Cholvicharn who recently described how Stefan "provided an all-round education: technique, diction, expression, interpretation and acting and also offered us many invaluable performance opportunities." His spirit lives on in his many students and performers who were inspired by him. The last words should go to Stefan himself, who once said at an interview, "If you ask me what I came to do in this world I, an artist, will answer you: I am here to live out loud."
Excerpt of an obituary written by Colin Kay. Published in the Pattaya Mail online version of 25 July 2020
---
LEN UNTERBERGER
20 January 1939 - 6 June 2020
I am sure you will be greatly saddened by the news that our close friend and Committee Member Len Unterberger passed away this morning, Saturday 6th June 2020. He had been diagnosed with Stage IV cancer but spent his final days peacefully at home with carers. His illness was not related to COVID-19. Further information is not yet available but we will attempt to keep you informed of any arrangements when they are announced.

As a schoolboy in America, Len developed an interest in classical chamber music and brass ensembles. After his retirement, he moved to Pattaya and in 2010 and persuaded his life-long friend and renowned pianist Laurence Davis to perform at Ben's Theater, which he often jokingly referred to as "The Salon". Len later encouraged members of the Thailand Philharmonic Orchestra to visit Jomtien and give recitals at Ben's Theater. He later built up a network of numerous musicians who gave many successful concerts at the Theater. His tireless work has been invaluable in sustaining the high standards of professional performance with which Ben's Theater has become associated. As well as his active involvement with many worthwhile charities, Len was largely responsible for encouraging the Thailand Philharmonic Orchestra to give their first concert in Pattaya in March 2015. Len's many contributions to both the musical and social life in Pattaya have been considerable and we shall miss him enormously. (Obituary written by Colin Kaye)
---